Physical Therapy Student, Jonathan Arias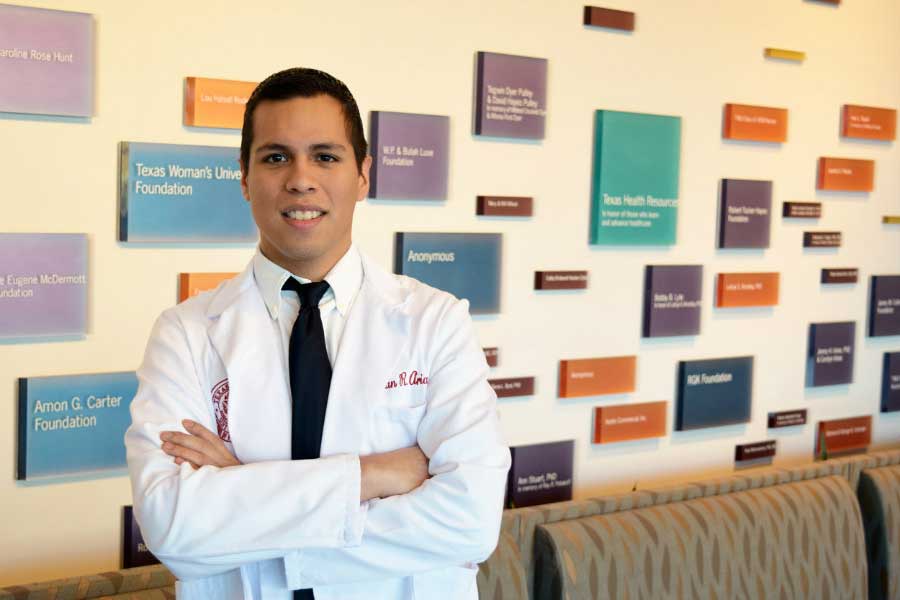 As a young man from the Rio Grande Valley, Jonathan Arias dreams of helping the people in his community.
His parents dreamed he would be a doctor, but he learned he could help patients more by filling a prescription through physical therapy rather than just doing the prescribing.
"When I found out about the profession of physical therapy, I just fell in love with it because it's something that you are there with them and you can see an improvement. They're just grateful – people who haven't walked in years and to just take one step and you're part of it. That's what called me."
Jonathan applied to several PT schools in Texas. Knowing TWU was among the best in the state, it was his first choice. He was understandably filled with emotion, excitement and gratitude when he learned of his acceptance. Now halfway through the three-year program, he couldn't be any more sure of his career path. He is also making the most of his time as a student at TWU.
As a native Spanish speaker who takes pride in his heritage and culture, Jonathan wants to help his student colleagues better serve their future Latino patients. When Jonathan was selected as the Student Government Association representative he started by helping plan Spanish Heritage Month.
He didn't stop there. Jonathan then created a student organization on the Dallas Campus called Spanish for Health Care which provides free Spanish-language tutoring to any student at TWU. Many of his classmates experience the need after their clinical rotations.
During one of Jonathan's clinical rotations he decided to return to his home in Brownsville. Aware of the general economic differences between Dallas and the Valley, he wanted to experience PT in a clinical environment that wasn't outfitted with all the technology bells and whistles like the mega-hospitals of DFW. "It was an eye-opening situation. We only had one pair of crutches for the entire hospital and outpatient clinic to teach people how to use crutches," Jonathan said.
His plan is to return to the Valley after graduation and give back to the people he grew up with. He wants to make a difference by providing quality services for his patients.
That bold heart for service and excellence is what drew Jonathan Arias to TWU.
Story by Adam Hengeveld
Media Contact
Staff Reporter
940-898-3456
Page last updated 11:42 AM, October 1, 2021