Campus leader and senior, Layton Hernandez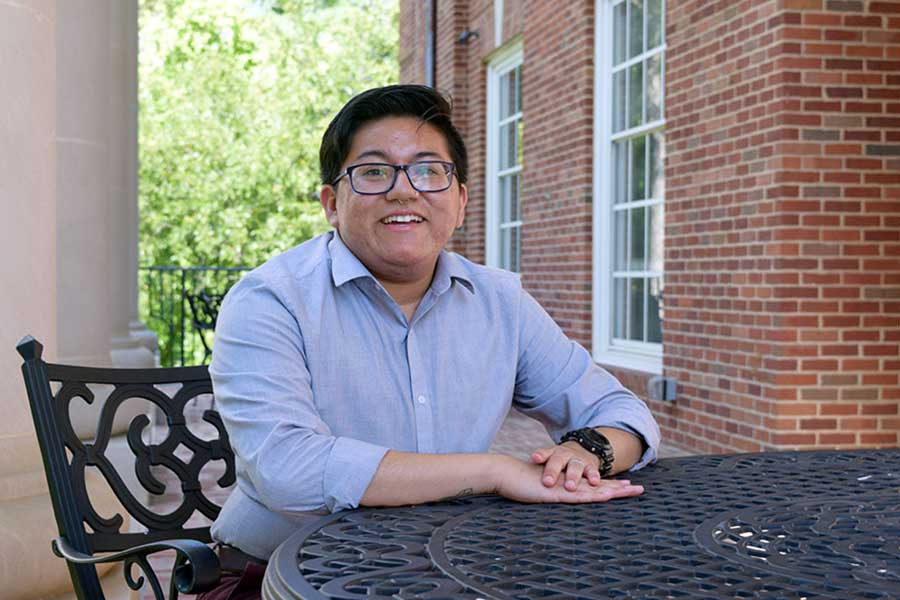 Layton Hernandez had a rocky start to his time at TWU. He didn't have transportation between his family's home in Lewisville and the Denton campus, so he found himself either sleeping at his sister's place or crashing on the couches of friends. His family relocated to Denton later in the year.
In fact, Layton wasn't even sure he would be able to attend college as a senior in high school. With the help of his sister-in-law, a TWU alumna, and the encouragement of a high school teacher, he made the decision to apply to TWU. He began as a biology major, and after briefly considering psychology, he decided to major in general studies with concentrations in family studies and multicultural women's and gender studies.
However, Layton came to realize his passion for helping students succeed in college. He now plans to attend graduate school for a career in higher education with a focus in student affairs. He wants to work in student affairs because he sees the value in developing students not only in the classroom, but especially outside of the classroom. He believes that's where student leadership skills are refined.
It all started thanks to another student that recommended Layton become a new student orientation leader. Now after three years, he has especially enjoyed the opportunity to connect with new students. He has also been fascinated by the preparation, collaboration and planning involved in pulling off an impactful orientation experience.
The role of orientation leaders in the lives of new students is significant. It's a time of new relationships, heavy coursework and many opportunities for activities which can all make for a highly stressful and overwhelming experience. Orientation leaders develop ongoing relationships with new students to ensure their continued success at TWU.
Layton feels that TWU is committed to providing students with a well-rounded education that prepares them to embrace diversity, which has helped him develop his self-confidence. As someone who is personally familiar with marginalized populations, being a person of color and LGBTQ, Layton feels comfortable to assert himself in the supportive community of TWU. Layton said, "TWU is really good at recognizing that anyone can be a leader."
Layton is a campus student leader because he has experienced firsthand the mantra of TWU as the "Campus with a Heart," as faculty and staff have supported him, particularly when in his first year while attending PRIDE meetings, a group for LGBTQ students, he found his place within the LGBTQ community.
Attending college allows students to pursue their interests and find one's voice. Layton Hernandez is no exception, and in fact, he is an exceptional representation of the bold, pioneering spirit of TWU by doing both.
Story by Adam Hengeveld
Media Contact
Staff Reporter
940-898-3456
Page last updated 1:38 PM, October 1, 2021