TWU partners with NCTC to expand access to rural students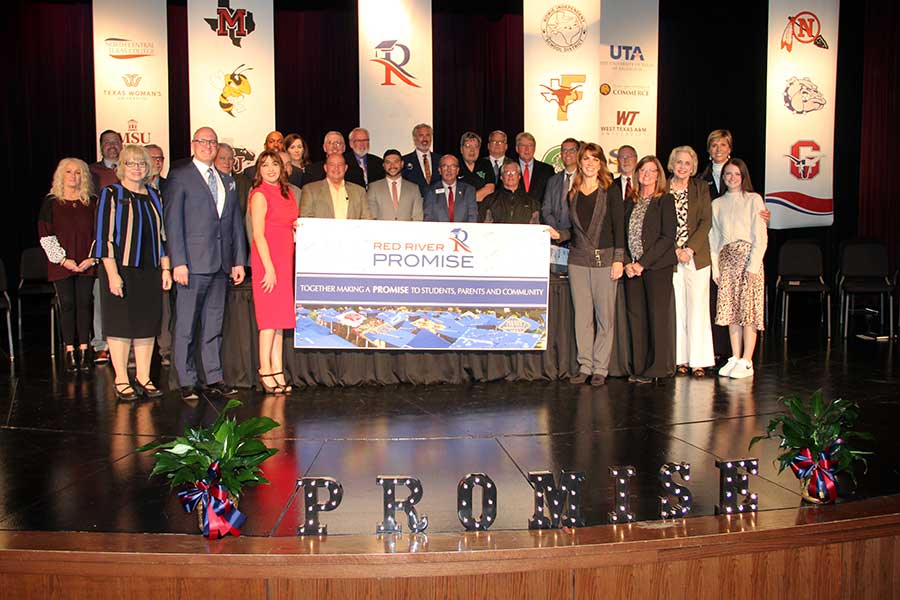 Jan. 14, 2022 — DENTON — Texas Woman's University has partnered with North Central Texas College (NCTC) to launch the Red River Promise Program, which offers high school students in 13 school districts the opportunity to attend college for free and receive an array of support services.
Eligible students who pledge to participate in the program can attend NCTC, Texas Woman's or several other partner institutions the fall after they graduate from high school. The promise program covers the cost of tuition and fees not covered by federal and state financial aid or institutional scholarships.
The partnership is aimed at creating a stronger college-going culture among rural high school graduates, and offering a more affordable higher education pathway that won't result in high debt, said NCTC Chancellor Brent Wallace.
School districts participating in the program are Bowie ISD, Callisburg ISD, Era ISD, Forestburg ISD, Gainesville ISD, Gold-Burg ISD, Graham ISD, Lindsay ISD, Muenster ISD, Nocona ISD, Prairie Valley ISD, Saint Jo ISD, and Valley View ISD. High school students from schools in those districts can contact their counselor for more information or visit promise.nctc.edu.
The Red River Promise Program is funded by a grant from the Greater Texas Foundation, with additional support from the Rural Community College Alliance, the National College Promise Campaign, and Phi Theta Kappa.
Launch of the Red River Promise Program came about one month after Texas Woman's partnered with Grayson College to establish the Texoma Promise, a similar initiative that benefits rural students in that North Texas region.
Media Contact
Matt Flores
Assistant Vice President, University Communications
940-898-3456
mattflores@twu.edu
Page last updated 1:11 PM, January 14, 2022