TWU adds Weddington Collection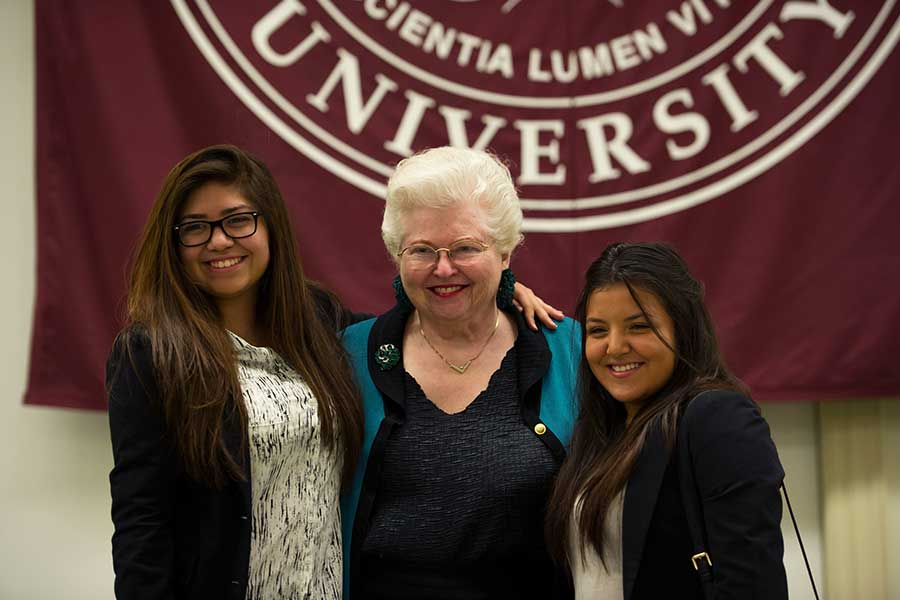 March 8, 2022 — DENTON — Sarah Weddington was known best for arguing before the U.S. Supreme Court in the landmark Roe v. Wade case, but she had a trailblazing legal and legislative career that spanned decades and was predicated largely on advancing women's issues, which produced mountains of documents and records.
Now, all of her historical papers, pictures and other artifacts will be part of a permanent collection at Texas Woman's University.
Throughout her life as an advocate for women, Weddington kept meticulous records, carefully amassing materials representing every stage of her remarkable career. Before she passed away in December 2021, Weddington donated her papers to the Jane Nelson Institute for Women's Leadership at TWU.
"It is fitting that we chose International Women's Day to announce this extraordinary gift from a woman who spent her entire career fighting for women's rights and ensuring women had opportunities not just to sit at the table, but to sit at the head of the table;" said TWU Chancellor Carine M. Feyten. "Sarah Weddington was an exceptional leader and embodied the pioneering spirit that defines Texas Woman's."
The donated documents in the collection span Weddington's career as an attorney, legislator, public speaker and professor. Among the items are photographs, first edition books, awards and other artifacts from Weddington's life, including her time serving in the Texas Legislature, developing arguments in Roe v. Wade, working in the White House and representing the United States on an international scale.
"Sarah Weddington had an interesting and productive career, and her influence as a lawyer, legislator, lecturer, women's advocate and leader had remarkable reach. This collection provides a trove of interesting artifacts that will give researchers a veritable front-row seat to historical events affecting women's issues," said Mary Anne Alhadeff, executive director and chief officer of the Jane Nelson Institute for Women's Leadership.
The collection is currently undergoing archival processing and is available to the public for research purposes. Several artifacts from the collection are on display as part of the Woman's Collection on the 2nd floor of TWU's Blagg-Huey Library on the university's Denton campus. Additionally, selected offerings will be available online in January 2023 in the university's special collections digital archives.
While Weddington gained international attention for presenting arguments in the landmark Supreme Court case, she was devoted to creating opportunities for women. Her life was full of firsts: she was the first woman elected to the Texas Legislature representing Travis County; the youngest person (26) to present in front of the highest U.S. court; and first female general counsel for the U.S. Department of Agriculture. President Jimmy Carter named Weddington as his special assistant for women's issues. Later, she became a distinguished professor at Texas Woman's University, lecturing about her passion to make a difference.
"She always had a heart and mind for working people, for women in particular, and devoted her life to that," said Phyllis Bridges, a TWU English professor and lifelong friend of Weddington who was instrumental in bringing the Weddington Collection to the Jane Nelson Institute.
The institute is dedicated to preparing more women to take on successful roles in business and public service. Its three specialized centers — Center for Student Leadership, Center for Women Entrepreneurs and Center for Women in Politics & Public Policy — ensure women have the education to establish careers as successful C-suite executives, the skills for building entrepreneurial businesses and the framework needed to run for public office.
###
Media Contact
Matt Flores
Assistant Vice President, University Communications
940-898-3456
mattflores@twu.edu
Page last updated 11:07 AM, March 8, 2022