Scholarship winner leaves legacy of achievement, leadership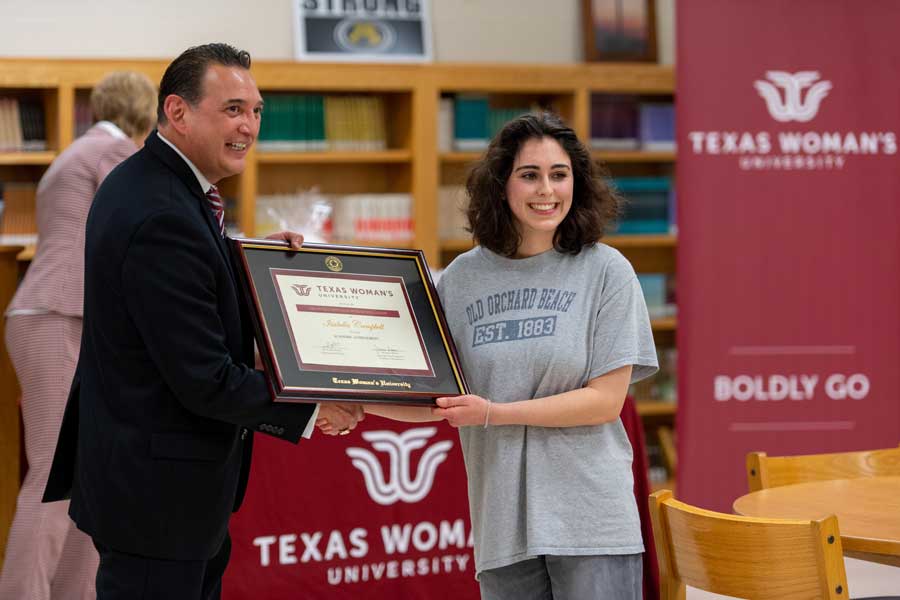 Isabella Campbell has a penchant for excelling – and for helping others be at their best, too.
The Alvord High School senior is at the top of her class academically and serves as president of the senior class, the student council, Alvord High School's National Honor Society chapter and the school's Family, Career, and Community Leaders of America chapter.
For the third year in a row, Campbell is the high school's drum major, and she has been named to the All-Region Band and the All-Star Cast in the University Interscholastic League's One-Act Play competition.
For years, Campbell has been a volunteer at Grace Fellowship Church and at the Alvord Public Library's summer reading program. She tutors at her high school, too.
Given her distinctive background in leadership, academics and service to her community, Campbell was an easy choice for the 2022 Chancellor's Endowed Scholarship, awarded by Texas Woman's University Chancellor Carine M. Feyten.
"Clearly, she has set the bar exceedingly high for academics, extracurricular activities and community service, and we are proud to have you join our university community," Feyten said during a surprise visit to Alvord High School on April 13 to personally award the scholarship to Campbell.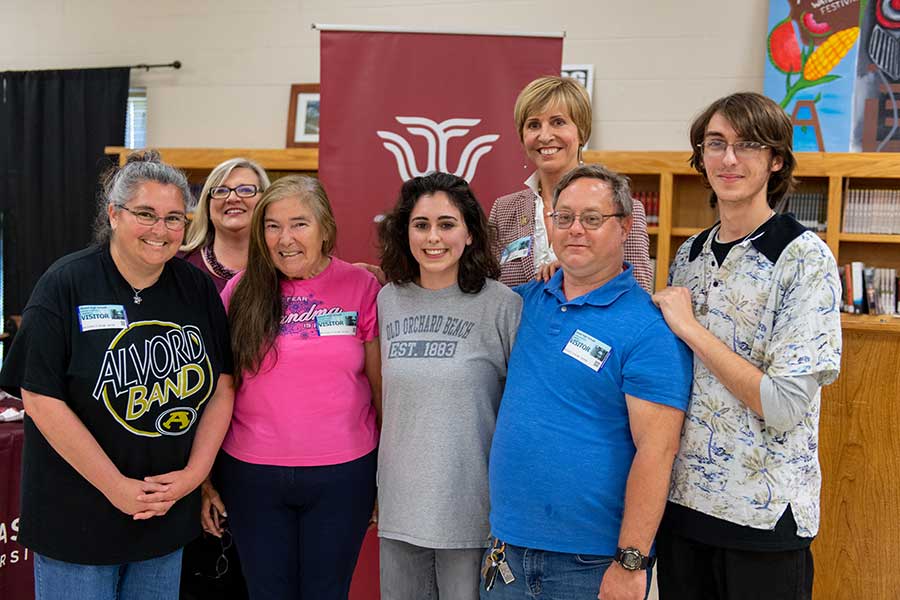 Besides the chancellor and several Texas Woman's administrators in attendance, Campbell's parents, brother and grandmother took part in the celebration. The school's principal and several of Campbell's teachers and fellow band members also attended the presentation.
The scholarship is the university's most prestigious and has an estimated value of $52,000. Besides the monetary value, the scholarship includes a mentorship component, in which the chancellor will serve as Campbell's mentor.
Campbell acknowledged challenges associated with maintaining a busy schedule but said, "I have a bunch of people who I know support me, and they made me want to be a leader."
She plans to major in education when she enrolls at Texas Woman's in fall 2022, and says she hopes to one day combine her love of education with film-making. Already she has a collection of short videos on a YouTube channel that she has created, and hopes to eventually make documentaries on topics that have broad interest and which can reach large audiences.
"I fell in love with putting pieces together and sharing them with other people," Campbell said.
For now, she maintains her focus on finishing her senior year and looking forward to the college experience.
She'll have at least one familiar classmate when she becomes a full-time student next fall: her father, Josh. He graduates in May with a bachelor's degree in English and is already enrolled in graduate school for the academic year beginning in fall 2022.
For their part, parents Josh and Sarah Campbell said they were extremely proud of their daughter's accomplishments, but weren't surprised by her drive to excel academically and to be hyper-engaged in school activities.
"In a small town, it's not unusual for someone to wear many hats," Sarah Campbell said. "I think it's been good for her to figure out how to work through it."
Added her father, Josh Campbell: "She's always taken classwork seriously – she loves to learn."
Media Contact
Matt Flores
Assistant Vice President, University Communications
940-898-3456
mattflores@twu.edu
Page last updated 5:21 PM, April 13, 2022