Grad's long path to degree inspires family, friends
The folks at Merriam-Webster should rethink their dictionary's entry for the word "perseverance." They might want to add a picture of Edna Rawson under it.
The description could recount Rawson's circuitous path to a college degree that started after her high school graduation in 1968 and later included raising six children as a single parent and working more than 50 jobs.
A postscript to the entry might include this nugget: On Dec. 12, one day after her 70th birthday, Rawson crossed a finish line—literally and figuratively—earning a bachelor's degree in general studies at Texas Woman's University.
The literal part of that reference is the ceremony Rawson took part in with more than 1,200 TWU graduates: crossing the finish line at the Texas Motor Speedway in Fort Worth to pick up their diploma covers—a celebratory salute to the university's 2020 graduates who had to overcome the added obstacle of completing a degree during an extraordinarily challenging pandemic.
"I have been wanting this for more than 40 years, I guess I just didn't know that when I first got out of high school," Rawson said. "I knew God wanted me to do something else."
Rawson grew up in and around the tiny hamlet of Homer, Louisiana, until her family moved to Dallas permanently in the 1960s, when she enrolled in the ninth grade. Her father died when she was in elementary school, and her mother, who had dropped out of school in the eighth grade, had to work tirelessly to raise the family.
"Nobody taught us to go to college, just to work—and that's what we did," Rawson recalled. "When you are poor, you think first about making money."
Her first college experience wasn't long after high school, when she enrolled in one of Dallas College's community campuses, but as with many other young college students, life happens, and she needed to switch her focus more toward earning a living than attending college full time.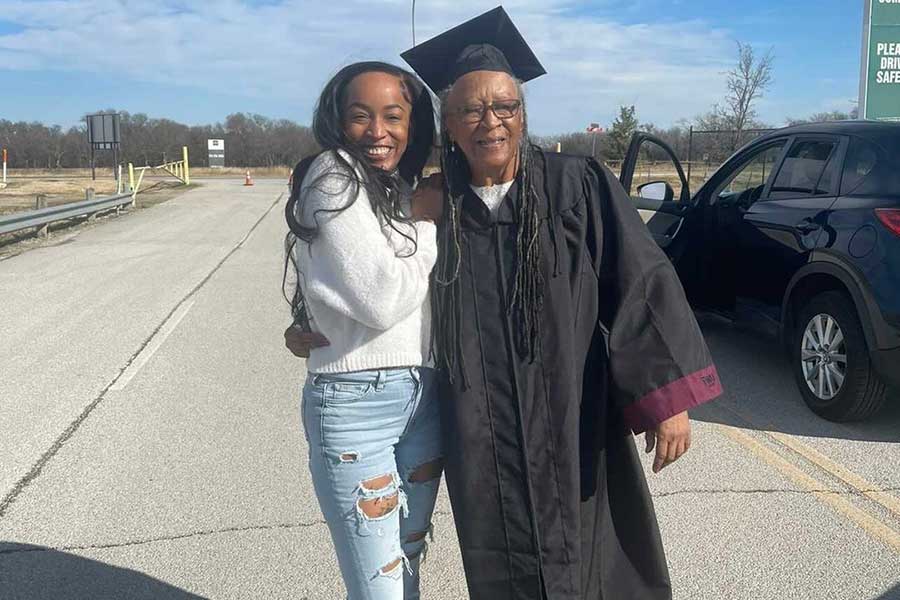 "It was constant over the last 40 years," Rawson said, adding: "Sometimes, we get in our own way."
After an initial job at a local hospital carrying out minor tasks, she found herself embarking on a series of jobs over the course of her adult life, trying to find the right fit. Among the jobs she took were sales clerk, cashier, long-distance telephone operator, secretary, newspaper advertising representative, accounting assistant and receptionist.
Rawson worked at a department store, at a newspaper, at a health science center, an insurance office, a children's shelter, for the Texas Department of Human Services and a community college district. She completed her bachelor's degree while working full time in the advising department for Richland College, part of the Dallas Colleges network.
Completing her degree was an inspiration to her family and friends – and a surprise to her oldest child. Rawson kept her studies secret from her daughter, Tara Grigsby, who lives in Cincinnati, Ohio. She was taken aback when she got word from Rawson that she would be graduating in a week.
"It totally surprised her to learn that her mother was getting a college degree – and getting one from Texas Woman's University at that," Rawson said, laughing. Grigsby had earned her degree in Occupational Therapy from TWU 20 years earlier.
"To see our mom do this at 70 years old has really inspired us," said Kayla Monroe, another daughter who lives in Dallas. "She has inspired me to keep following my dream of doing what I want to do: sing."
For Rawson, she said earning her degree has sparked a new motivation to keep improving her life. "My age isn't preventing me from moving forward," she said.
So what's next for her?
"I would like to go to law school, and I've already started applying to graduate schools," she added.
Media Contact
Matt Flores
Assistant Vice President, University Communications
940-898-3456
mattflores@twu.edu
Page last updated 4:40 PM, December 22, 2020