Congresswoman's gift launches TWU scholarship program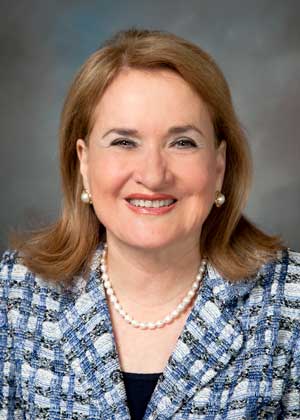 April 28, 2022 — DENTON — U.S. Congresswoman Sylvia R. Garcia today announced a $50,000 gift to Texas Woman's University to launch a scholarship program aimed at supporting students who aspire to careers in public service and come from traditionally underrepresented groups in federal, state and local politics.
The gift establishes an endowment in the congresswoman's name that will generate scholarships in perpetuity for Texas Woman's undergraduate students, and commemorates the 50th anniversary of receiving her undergraduate degree at the university.
Garcia earned a bachelor's degree in social work in 1972 and a master's degree in political science in 1983, both from Texas Woman's University. The announcement was made during the university's 2022 homecoming activities, and Garcia issued a challenge for classmates and others to match her donation.
"Texas Woman's University empowered me to aim high and believe in myself as a young female student," Garcia said. "Their high-quality and affordable education gave me the tools necessary to be successful. It's an honor to gift my alma mater these funds and help a new wave of bright public policy students reach their full potential. With the proper resources, these students will be tomorrow's leaders."
The endowment will fund one scholarship per year beginning in fall 2022.
To be eligible for the scholarship, recipients must be undergraduates enrolled full time at Texas Woman's, from a historically underrepresented group in U.S. politics, aspire to a career in public service, and demonstrate financial need.
"We are honored that Congresswoman Garcia chose to establish this endowment at Texas Woman's," Chancellor Carine M. Feyten, Ph.D., said. "As a woman who herself overcame barriers on her path to a successful career in public service, she serves as a shining example for others to emulate, and her gift will help students with obstacles of their own to one day step into leadership for their communities."
In 2018, Garcia was one of two Latinas in Texas to become the first to be elected to the U.S. House of Representatives. Prior to that, she was the first Hispanic and first woman to be elected to the Harris County Commissioner's Court.
A native of Palito Blanco, a small South Texas farming community, Garcia grew up in a household with nine siblings and parents who struggled financially. After completing degrees at Texas Woman's, she earned a law degree from Texas Southern University in Houston and embarked on a public service career that included positions as a social worker, municipal court judge and city controller. She also held elected posts on the Harris County Commissioner's Court and in the Texas Senate.
Media Contact
Matt Flores
Assistant Vice President, University Communications
940-898-3456
mattflores@twu.edu
Page last updated 11:13 AM, April 28, 2022