National women's group lauds Saunders for lifetime achievement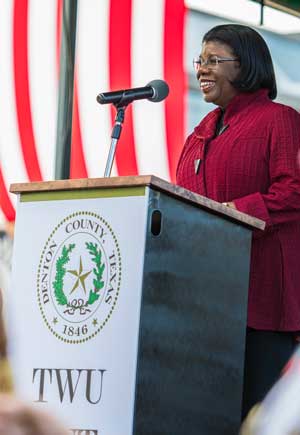 Feb. 17, 2020 — DENTON — A national women's group has recognized the founding executive director of TWU's Jane Nelson Institute for Women's Leadership, Maj. Gen. Mary Saunders (ret.) USAF, with the organization's lifetime achievement award for her work in producing women leaders.
The award, to be presented March 17 in Washington, D.C., by the Public Leadership Education Network, recognizes outstanding leadership in advancing women in the public policy arena. Saunders will be among five women who will be recognized at the annual conference.
Saunders, a Texas Woman's Distinguished Alumna, launched the university's leadership program in 2006 and became the institute's executive director when it was founded in 2018. The first female general officer selected as the director of transportation in the U.S. Air Force, Saunders was also named a TWU Woman of Distinction in 2000 and was one of five women inducted into the Texas Women's Hall of Fame in 2012.
PLEN was founded by former Texas legislator and gubernatorial candidate Frances "Sissy" Farenthold, who carried her political experiences to her role as college president in proposing that women's colleges work together to educate women for public leadership.
About the Jane Nelson Institute for Women's Leadership
The Jane Nelson Institute for Women's Leadership at Texas Woman's University is dedicated to preparing women to take on successful roles in business and public service. Through the institute's three specialized centers—Center for Student Leadership, Center for Women Entrepreneurs and Center for Women in Politics & Public Policy—the institute ensures women have the education to establish careers as successful C-suite executives, the skills for building entrepreneurial businesses and the framework needed to run for public office. The institute and its centers provide multiple platforms for women to advance their leadership skills and experience through education, mentoring and networking.
About PLEN
The Public Leadership Education Network (PLEN) is the only national organization with the sole focus of preparing college women for leadership in the public policy arena. Each year, PLEN brings hundreds of women students from colleges and universities across the country to Washington, D.C. They experience first-hand how public policy is shaped and implemented at the national level. They are better prepared to become the next generation of public policy decision makers.
Media Contact
Matt Flores
Assistant Vice President, University Communications
940-898-3456
mattflores@twu.edu
Page last updated 3:50 PM, February 17, 2020