TWU launches Nancy P. and Thaddeus E. Paup Lecture Series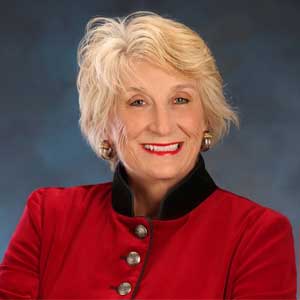 August 6, 2019—DENTON—A new lecture series, hosted by the Institute for Women's Leadership at Texas Woman's University, will launch Sept. 19 in North Texas. Created through a donation from Nancy P. and Thaddeus E. Paup, the series kicks off with a talk by Kathryn Childers, who was hired in 1970 as one of the first five female U.S. Secret Service agents.
In this role, Childers protected the president, first family and foreign heads of state, as well as Caroline and John F. Kennedy, Jr. Later, she became a broadcast journalist, author and publisher, philanthropist, wife, mother and award-winning community advocate.
In her talk "Do it Scared," Childers will share her life story while encouraging attendees to identify and own their personal "scared," what she calls the first step to courage.
The event, which is free and open to the public, will be held 7:30-9 a.m., Thursday, Sept. 19, at Ashton Gardens in Corinth, Texas. Complimentary breakfast will be provided. Advanced registration is required.
"Nancy and I find it fitting that someone of Kathryn's stature be invited to serve as the inaugural speaker for this new lecture series," Ted Paup said. "We want to bring bold, innovative and renowned female leaders to the area to share their insights with the community."
Childers also will be giving a talk titled "What's in Your Backpack?" to TWU students on campus in the Student Union Room 207 at 12:30 p.m., and lunch will be provided. She will show students how to leverage their "backpack of experience," nail an interview and get their resumes noticed.
The Nancy P. and Thaddeus E. Paup Lecture Series will hold two events each year. The spring 2020 speaker will be announced at the Sept. 19 event.
The Paups, who reside in Fort Worth, are longtime supporters of TWU. Nancy, a former TWU Regent who received her bachelor's and master's degrees in education from the university, is a fundraising consultant and former corporate relations and membership manager of the Amon Carter Museum of American Art. She currently serves on the Advisory Council for the Institute for Women's Leadership. She also previously served as a board member of the TWU Foundation. Ted is the president of Paup Mineral Management, L.L.C.
For more information, visit twu.edu/pauplecture or call 940-898-2896 for questions about registration.
Media Contact
Ray Willhoft
Director of Communications, Jane Nelson Institute for Women's Leadership
940-898-4584
rwillhoft@twu.edu
Page last updated 12:11 PM, August 7, 2019