TWU dental hygiene students, faculty provide services in Peru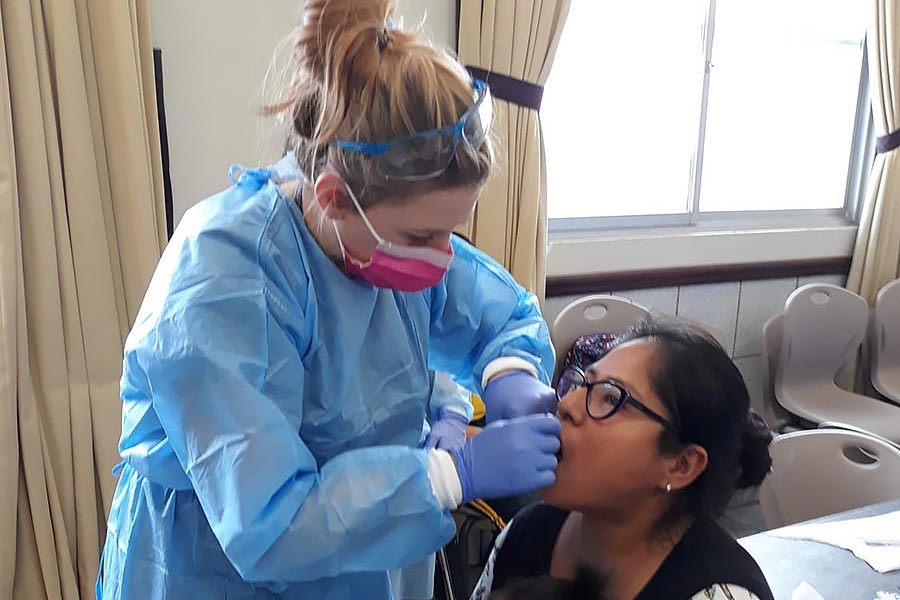 June 19, 2019—For the past three years, TWU dental hygiene clinical professor Leslie Koberna and her students have ventured to Guatemala, working in make-shift facilities and mobile dental units to treat and clean the teeth of orphans, school children and families who might not get these services elsewhere. Last month, Koberna took her students 2,000 miles further south to provide dental hygiene services to nearly 300 people in Lima, Peru, during an 11-day faculty-led education abroad experience.
"I brought a suitcase full of fluoride varnish to strengthen teeth and prevent decay, and silver diamine fluoride to kill existing decay and harden tooth surfaces," she said. "We visited and worked with mostly children, as well as some adults, in a Venezuelan refugee hostel, a women's abuse shelter, a soccer complex and a church."
Koberna and her undergraduate and graduate students describe these recent summer trips as life-changing experiences, noting they took time in the evenings to learn about local politics and conflicts, general healthcare and oral hygiene practices, economics, culture and language. They also went sightseeing and toured the nearby pre-Incan ruins and Nazca Lines in Lima, Machu Picchu in the Highlands, and the Uros floating islands on Lake Titicaca.
"You see very quickly what really matters in life," Koberna said. "These people are very poor, with very different diets than ours. In Lima, they eat a lot of rice and potatoes, and those who lived in the Highlands could get more fruits and vegetables. Imagine: an avocado costs twice as much as a whole bag of potatoes! Their average annual income is $5,600, but they were so happy and kind, and so appreciative for our help."
When it was time for Koberna and her students to return to the U.S., they left behind their unused supplies for a dentist working in a low-income hospital.
"Next year, we plan to take two dentists with us who can do extractions, and we're also exploring options for students to have more daily interactions with Peruvians in their home environments," Koberna said. "This will further strengthen our ability to provide students with important global perspectives on general healthcare and oral health in a culture of poverty."
Media Contact
Page last updated 4:44 PM, April 7, 2021