TWU commemorates the woman suffrage movement in Texas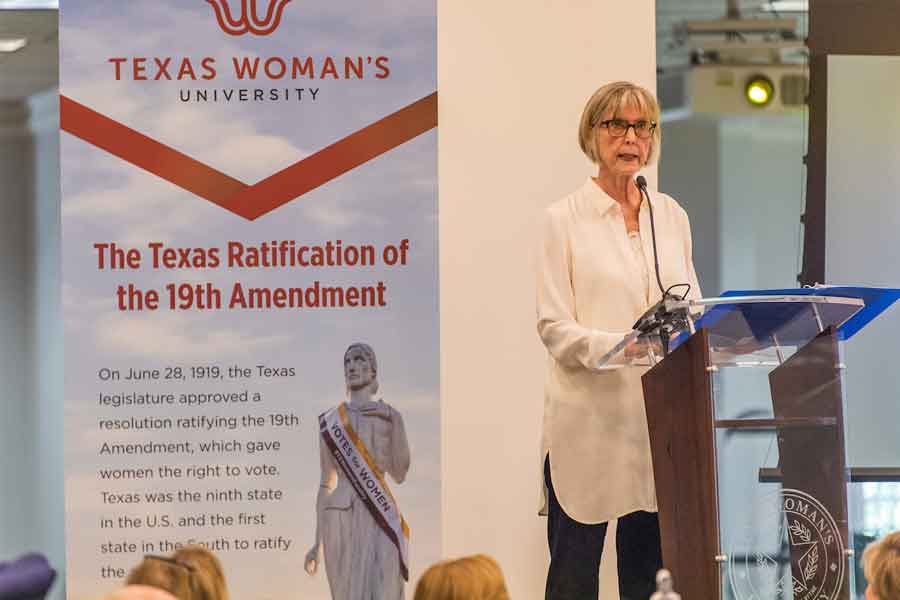 June 17, 2019 - DENTON - Texas Woman's University and the Institute for Women's Leadership are commemorating the woman suffrage movement throughout June by celebrating Texas' ratification of the 19th Amendment, which gave women the right to vote.
On June 28, 1919, the Texas legislature approved a resolution ratifying the 19th Amendment, making Texas the ninth state in the U.S. and the first state in the South to do so. On August 26, 1920, after three-fourths of the state legislatures approved it, the Secretary of State certified ratification of the 19th Amendment to the U.S. Constitution.
TWU has a unique connection to the woman suffrage movement in Texas. Mary Eleanor Brackenridge, Eliza "Birdie" Johnson and Helen Stoddard, who sat on the university's founding board of regents, were suffragists who championed women's education and social reform.
To commemorate the Texas ratification, TWU held a luncheon for friends of the university on June 13 in the Blagg-Huey Library on the Denton campus. Nancy Baker Jones, Ph.D., president of the Ruthe Winegarten Memorial Foundation for Texas Women's History, spoke on the role women in Texas played during the woman suffrage movement.
According to Jones, "When the 19th Amendment came up for a vote in Congress, Texas women, now voters [in primaries], initiated a letter-writing campaign to their representatives in Washington, reminding them of their new voting power… The state's Congressional delegation voted for the amendment, helping assure its success. Governor Hobby… called a special session of the legislature to vote on the ratification of the new amendment. The House and then the Senate both voted yes in June 1919, and Governor Hobby signed the decree."
Jones also remarked on the strides still needed in regard to the voting rights of minorities, who were not always included in the woman suffrage movement and who still face obstacles today.
"Voter suppression still exists, and the Voting Rights Act is in need of repair," she said. "But at least we know that important change does happen when enough people put their minds to it for long enough and don't give up."
In honor of the event and TWU's historical connections to the woman suffrage movement, Congressman Michael C. Burgess extended remarks on the U.S. House floor recognizing TWU.
Other commemoration activities include a reception on June 20 at the National Cowgirl Museum and Hall of Fame in Fort Worth and a special suffragist exhibit, "A Century of Citizenship: There I Take My Stand," on display in the Blagg-Huey Library in Denton through next year.
Additionally, plans are underway for TWU to commemorate the national ratification date of the 19th Amendment in August 2020. An event schedule will be published on the Institute for Women's Leadership website once details are finalized.
TWU Suffrage Exhibit on display in the Library
Media Contact
Ray Willhoft
Director of Communications, Jane Nelson Institute for Women's Leadership
940-898-4584
rwillhoft@twu.edu
Page last updated 11:15 AM, May 17, 2022