Myers forged legacy of education, community and kindness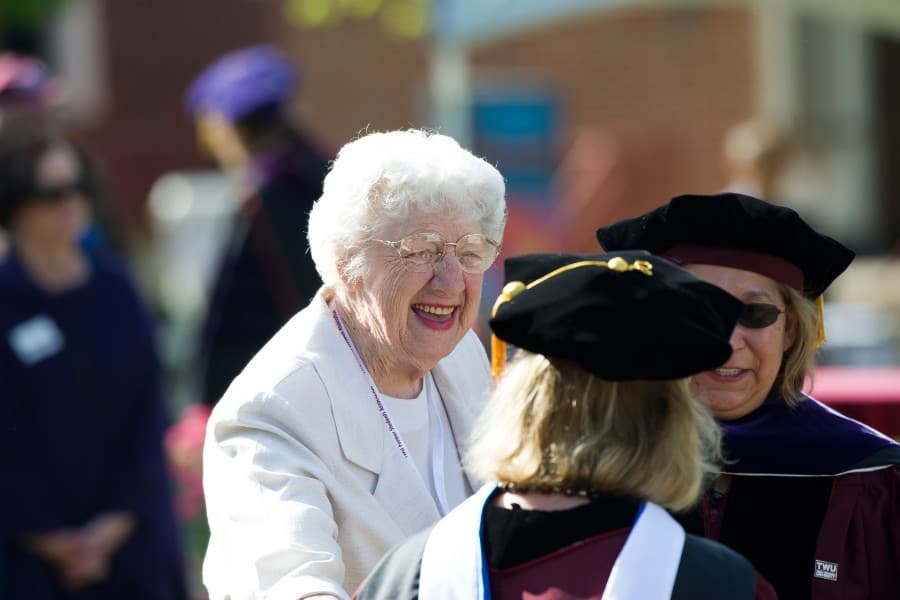 She was an outstanding educator, devoted community member and revered motivational speaker, but the people who were closest to Bettye Myers, PhD, remember her mostly for her kind, gentle soul.
Myers, a faculty member at Texas Woman's University for more than a half century before her retirement, passed away Monday, February 18, 2019, after suffering a stroke the previous week. She was surrounded by close friends, many of whom she considered family.
"I don't believe there is a person more kind and thoughtful than Bettye, anywhere," said TWU Chancellor and President Carine M. Feyten, PhD. "Bettye had an easy touch. For those who view our world as shaken, she could restore faith in humanity. By her sheer presence, Bettye radiated pure joy."
Feyten said Myers regularly visited her office and often brought flowers or chocolate cake to share. On Valentine's Day, she brought the chancellor chocolate-covered strawberries.
Born on Sept. 26, 1926 in Heavener, Oklahoma, to Jay (a railroad engineer) and Gladys (a schoolteacher), Myers developed an interest early in education – and she excelled.
She enrolled at Texas Woman's after completing the 11th grade and within three years earned a bachelor's degree in 1946 in health, physical education & recreation, with a minor in government-sociology. She went on to complete a master's degree at TWU in 1947, also in health, physical education & recreation, but with a minor in education. In 1960, she earned a PhD in counseling psychology from the University of Michigan.
She held teaching positions at the University of Louisiana-Lafayette, Alabama College and the University of Michigan before joining the faculty at TWU in 1961, where she was a professor of kinesiology until she retired in 2015.
Myers loved teaching and had a stellar career in education, but she also was deeply engaged with the Denton community. She served in a number of organizations and held leadership positions with many of them, including AIDS Services of North Texas, Cross Timbers Girl Scouts Council, the Denton City-County Day School, the Denton Parks Foundation, the Family Resource Center, Flow Health Care Foundation, Kiwanis International and the United Way. She also was elected to the Denton Independent School District Board of Trustees and served as board president. A middle school in the Denton school district bears her name.
Additionally, Myers was a prolific speaker. She gave more than 130 motivational speeches and conducted 245 workshops and seminars to a wide array of audiences in the United States and Guam.
To recognize her service and contributions, the city of Denton declared Sept. 26, 2006, as "Bettye Myers Day." Following her retirement at TWU, Myers was named a Professor Emerita, and in 2016, the university's butterfly garden was named in her honor.
Myers received more than 30 awards related to education or civic participation over her lifetime, including the TWU Cornaro Award for Outstanding Senior Faculty and the Distinguished Service Award from the American Heart Association's Texas affiliate. As a testament of her gregarious nature, she was named an honorary member of the American Airlines Association of Professional Flight Attendants. It was a recognition of endearment following a motivational speech she gave for the association, said Robbie Reid, a longtime close friend and former administrative assistant for the TWU kinesiology department.
"Bettye was the most giving, most forgiving and most accepting person I've ever known," Reid said, adding: "She touched lives of people who never even met her."
Media Contact
Matt Flores
Assistant Vice President, University Communications
940-898-3456
mattflores@twu.edu
Page last updated 9:27 AM, February 20, 2019