Graduation ceremony recognizes family members' support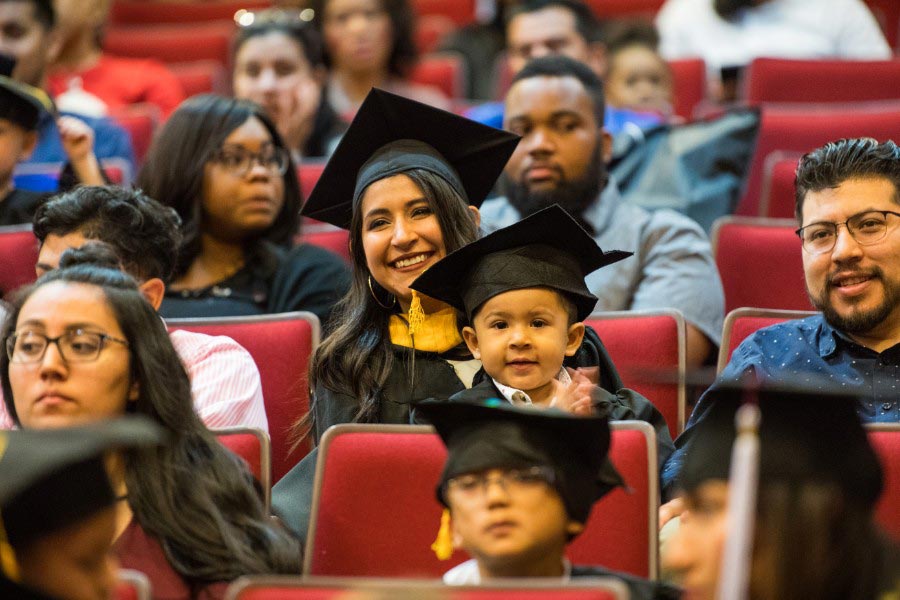 April 27, 2019—DENTON—It wasn't your typical pomp and circumstance.
Roughly 70 soon-to-be-graduates at Texas Woman's University took part in a special ceremony Saturday to honor their children and other family members for their support during the students' journey through college.
In all, about 315 people took part in the annual Family Graduation Celebration at TWU's Multipurpose Classroom and Laboratory building. During the event, children donned caps and gowns and walked across a stage to receive a certificate recognizing their support toward their parent.
"While students who have children are attending college at higher rates, their success can be a real struggle," said Amy O'Keefe, executive director of Texas Woman's Campus Alliance and Resource Education Department, which oversees the celebration. "Texas Woman's has long recognized the challenge student parents face being a scholar and a mom or dad. Acknowledging the sacrifice and support of the family makes this celebration truly special."
The event was especially poignant for Dezilyn Crawford, a single mom.
"I never thought I would see myself graduating," Crawford said. "Being a single mom of three, I've had to drop out of school on several occasions. I am blessed to see one of my dreams come true and to show my children the importance of persevering."
Media Contact
Matt Flores
Assistant Vice President, University Communications
940-898-3456
mattflores@twu.edu
Page last updated 1:25 PM, April 27, 2019