Fort Worth high school senior earns chancellor's top scholarship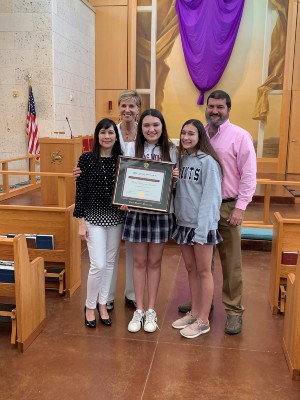 April 9, 2019—DENTON— It's not often that the leader of a higher education institution travels to a high school to personally award a scholarship, but when the circumstances are extraordinary, a personal visit is in order.
That's precisely what happened April 9, when Texas Woman's University Chancellor and President Carine M. Feyten traveled to All Saints' Episcopal School in Fort Worth to present the Chancellor's Endowed Scholarship to Celia Nowlin, the school's top senior who is looking forward to pursuing a career in music therapy.
The "full-ride" scholarship to TWU is valued at roughly $50,000 and includes an annual stipend to cover other expenses. The scholarship is typically given out once a year to students who exhibit outstanding academic achievement, leadership and service.
Nowlin said she chose Texas Woman's because of the strong reputation of its music therapy program. She was drawn to music therapy because it blends two of her passions: music and psychology.
"I knew I didn't want to be only a classical pianist and psychology has always been a strong interest of mine – I believe God wanted me to go into musical therapy," Nowlin said.
Besides being ranked first academically in her class, Nowlin is a National Merit Commended Scholar, a National Hispanic Recognition Scholar, and an AP Scholar with Honor. She also earned a perfect score on the math section of her SAT.
She's a three-time medalist on the National Latin Exam, has won awards for acting and performing with the choir, served as student council chair, and has penned a Junior Honors Thesis on the use of music therapy to prevent anxiety disorders in children. This year, in her senior capstone project, Nowlin collaborated with Cook Children's Hospital to develop parent-child interactive music programs in hospitals.
"This scholarship is particularly important and personal for me because I look forward to mentoring and supporting Celia throughout her time at TWU," Feyten said.
Media Contact
Matt Flores
Assistant Vice President, University Communications
940-898-3456
mattflores@twu.edu
Page last updated 4:55 PM, April 9, 2019