Camp Faculty
Vicki Baker - Camp Director
Vicki D. Baker, PhD, is a Professor of Music and the Coordinator of Music Education. She teaches both undergraduate and graduate music education courses and supervises student teachers. Prior to entering higher education, Baker taught elementary and secondary choral music in Texas public schools for 13 years. In 2019 she received the TWU Distinction in Service Award. She regularly presents her research at state and national music education conferences. Baker serves as a clinician and adjudicator for choirs throughout the state of Texas and conducts staff development for music educators.
Kaitlyn Carty Candler - Camp Coordinator
Kaitlyn Carty Candler is entering her eleventh year of teaching, beginning her career at Krum Middle School & High School and followed by seven blessing filled years at Northwest High School. Under her direction, choirs consistently receive sweepstakes awards at UIL competition and repeatedly have several students make the TMEA All-State Choirs. Most recently, the Northwest High School Chorale was invited to sing in The Gift of Music Concert Series hosted by the First United Methodist Church, Fort Worth. Mrs. Candler holds a Bachelor of Arts in Music Education from Texas Woman's University, where she was named as the 2009-2010 recipient of the Pressor Scholar Award. Mrs. Candler served as the TMEA All-State Women's Choir Alto 2 section leader in 2016 as well as the TMEA Region 2 High School Vocal Chair from 2016-2018. She is an active member of TMEA (Texas Music Educators Association), TCDA (Texas Choral Directors Association), and SAI (Sigma Alpha Iota).
Joni Jensen - Music Director and Conductor
Dr. Joni Jensen is the Director of Choral Activities at Texas Woman¹s University (TWU) in Denton, Texas. She received degrees in Vocal Performance and Pedagogy and Choral Conducting from Brigham Young University in Provo, UT and the University of Arizona. She is an active conductor and clinician as well as arranger. The TWU Concert Choir, under her direction, has performed at the Southwest American Choral Directors Association (SWACDA) Conference, the National Collegiate Choral Association Conference (NCCO), and the American Choral Directors Association (ACDA) National Conference. In 2020, they performed at the Texas Music Educators' Association (TMEA) Conference. Dr. Jensen has several pieces published with Walton Music, including "El Vito," which was a Texas all-state piece in 2014. She is also the editor of a series at Hal Leonard for advanced women's choral music and has many pieces published there as well. Dr. Jensen is the Associate Musical Director of the Millennial Choirs and Orchestras, which is a multi-location community organization. They recently released their album "Millennial Song" in October 2019, which peaked at #1 on the Classical Album Billboard Chart.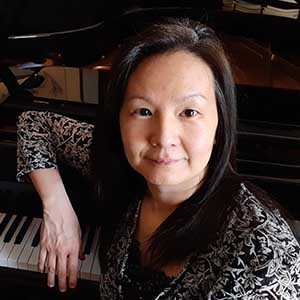 I-Ching Chen - Pianist
I-Ching Chen has been a full-time staff pianist at Texas Woman's University since 2018, and spends the majority of her time accompanying voice and instrumental lessons, performing in juries and student recitals, and playing alongside the TWU Concert Choir and Chamber Singers. In addition, she also serves as an adjunct instructor of functional piano classes for Music Education majors.
After starting piano at a young age, I-Ching was soon enrolled in a school for the musically gifted, and later went to study in Austria and Germany. During her time as a staff pianist at Texas Woman's University, I-Ching has performed in numerous instrumental, vocal, and choral concerts, and accompanied the Concert Choir on several remarkable programs and tours, including the 2019 American Choral Directors Association Conference and 60th Anniversary Jubilee, as well as the 2020 Texas Music Educators Association's 100th Anniversary Conference and Convention.
Large School Faculty
Ashley Dame - Section Leader, Soprano
Mrs. Ashley Dame is passionate about teaching from the heart. Mrs. Dame holds a Bachelor of Arts in Music Education from Mississippi College and a Master of Arts in Music Education from Texas Woman's University. She currently directs choirs at Wylie East High School in the Dallas/Fort Worth Metroplex and serves as a regional, national, and international clinician for middle and high school tenor-bass, treble, and mixed ensembles. She enjoys traveling to new places to spread the joy of musical artistry and share inspirational moments.
Mrs. Dame presents choral videos online, maintaining these as a free resource website for other choral directors with her husband. She has presented at state and national choral conferences including NAfME, TCDA, TMEA, SWACDA, and the National MS/JH ACDA Conference.
Kristin Poligala - Section Leader, Alto
Kristin Poligala is beginning her first year as the Head Choir Director at Sachse High School after serving as the Associate Director at Sachse High School for five years. She was named Sachse High School Teacher of the Year in 2019. Additionally, Mrs. Poligala co-sponsors Student Council and is passionate about Student Leadership at SHS. She completed her degree in Music Education at Texas Woman's University where she studied under Dr. Vicki Baker and Dr. Joni Jensen. Mrs. Poligala has previously directed choirs in Celina and Mesquite, Texas, and her choirs have consistently achieved Superior ratings at UIL and other festivals. Mrs. Poligala is an active member of TMEA and TCDA, and she currently serves as the Region III Vocal Division Treasurer. Mrs. Poligala LOVES coffee, reading, laying by the pool, and playing with her crazy dogs! She lives in Rowlett with her husband, Chris, and daughter, Madison.
Ben Oehlschlaeger - Section Leader, Tenor
Ben Oehlschlaeger began his career as a choir director in 2000. Ben earned his bachelor's degree at Southwestern University and master's degree from the University of North Texas (go Mean Green!). He is a former member of the Texas All-State Choir, Orpheus Chamber Singers, and Orchestra of New Spain. He has served as a clinician and adjudicator for various districts in the area. Ben teaches at Braswell High School in Denton ISD and has wonderful students. He loves competition, including UIL and the All-State process.
Ben has a wonderful wife, Janna, and three funny kids... Emme Lou, JB, and Henry. They have lived in Denton for more than 10 years... before there was a Starbucks!! When he isn't singing- Ben loves cycling, running, drinking coffee, and date nights with his lovely wife.
Nathan Dame - Section Leader, Bass
Dr. Nathan Dame is Coordinator of Fine Arts and Director of Choral Activities and at Wylie East High School in Wylie, Texas. He holds a Bachelor of Music Education from the University of Kansas, a Master of Arts in Music Education from Texas Woman's University and a Ph.D. with honors in Music Education with an Emphasis in Choral Pedagogy and a minor in Leadership and Administration from the University of Kansas. Dr. Dame is a passionate conductor-teacher with experiences leading students of all ages and ability levels, from elementary through college. He has served as a choral music educator in the Texas public schools and on the music education faculty of the University of Kansas, where he taught choral conducting, rehearsal techniques, choral methods, supervised student teachers, and conducted the Men's Glee Club, Youth Chorus, and Rock Chalk Singers.
Dr. Dame enjoys an active career as clinician/conductor, author, and adjudicator both nationally and internationally. He has presented at the International Voice Foundation Symposium, national, divisional, and state conventions of ACDA, the NAfME national conference, and the Texas and Kansas MEA clinic-conventions. He is published through the Choral Journal, ChoralNet, Southwestern Musician, Texas Music Education Research, and RBC Publications.
Dr. Dame currently serves as ACDA National Repertoire & Resources Chair for Junior High/Middle School Choirs. Past appointments have included TMEA Region 25 Vocal Chair, Region 2 MS/JH Vocal Chair, State Collegiate President of KMEA, and two-time district coordinator of vocal/choral music. His research interests include adolescent choral music education, single-sex choirs, male singer recruitment and retention, choral program management, student leadership, and team dynamics within music ensembles
Small School Faculty
Megan Senter - Section Leader, Soprano
Megan Senter is a native Oklahoman, graduating Magna Cum Laude from Oklahoma City University in 1992 with a Bachelor's of Music Education. Mrs. Senter has taught all levels of music in Oklahoma and Texas. She is currently the director at Sunnyvale High School, where she began the program in 2008. Her choirs consistently earn Sweepstakes at UIL and Superior Ratings and local and national festivals. Sunnyvale High School has had TMEA All State Singers since 2014. Mrs. Senter serves as clinician, accompanist, and adjudicator for numerous school districts during UIL and Solo & Ensemble. Mrs. Senter is a member of TMEA, TCDA, ACDA, TMAA, and TFMC. She is currently serving as the TMEA Region 3 Small School Choir Coordinator. Mrs. Senter resides in Rockwall with her husband, Mike, and son, Preston. The Senters are Worship leaders for North Mesquite Baptist Church. She enjoys movies, karaoke, and baseball in her spare time.
Amy Jezek - Section Leader, Alto
Mrs. Jezek is in her third year at Bridgeport High School where she has started the choir program from the ground up! She teaches choir, music appreciation, AP music theory, and Musical Theatre. She also teaches choir at Bridgeport Middle School. She is a UNT and TWU alumni. She graduated in 2018 from TWU with her Master of Arts degree in Music Education. Mrs. Jezek's choirs in Bridgeport sing at many community events throughout the year as well as present concerts. Many of her students choose to participate in the All-State process and Solo and Ensemble competitions. Mrs. Jezek believes she has the best kids around and they continually impress her with their musicianship and heart!
When not at school, Mrs. Jezek loves to spend time with her husband drinking coffee and laughing at the crazy smart things their three-year-old son says as a train aficionado.
Mark Baker - Section Leader, Tenor
Mark Baker has served as music educator for the past 40 years, teaching students on the elementary, middle school, and high school level. He is in his 18th year as Head Choral Director at Denton High School and has previously served as the Fine Arts Department Chair. Mark received his B.S. in Music Education from Indiana Wesleyan University and his M.A. in Music Education from Texas Woman's University. Mark previously served as Region 2 President and in a number of other leadership positions in TMEA, including High School Region Chair in Region 2 and Middle School Region Chair in Regions 5 and 24. Two of the terms in which he served as Region Chair were when new regions were being formed and he provided leadership in melding different regions' policies into a new Region Handbook. Mark has served as a clinician for All-Region Choirs throughout the state. He also served as the TMEA All-State Men's Choir Section Leader in 2008.
During his forty plus years of teaching, Mark has been the recipient of numerous awards, including being named Teacher of the Year for Denton ISD in 1996. He has been named in Who's Who Among America's Teachers on numerous occasions and was presented the prestigious CARE award by the Greater Denton Arts Council in 1997 for promoting arts in the community.
For 12 years Mark has been Minister of Music at Euless First United Methodist Church. Mark and his wife, Vicki, who is the Coordinator of Music Education at Texas Woman's University, live in Denton with their dog, Anabelle.
Will Griswold - Section Leader, Bass
Mr. Will Griswold has been a HS Choir Director for four years, all of which have been spent at Argyle High School. After graduating from Belmont University in 2016 with his Bachelors in Music Education, Mr. Griswold was hired to build the Argyle ISD Choir program from the ground up, teaching on three different campuses during his first year. Since 2016, Mr. Griswold has helped the Argyle HS Choir program grow from 5 students to 85 students and from one performing ensemble to six performing ensembles. During that time he has helped 30 students make the All-Region Choir, 7 students make the Texas All State Small School Choir, and has led the AHS & AMS Choirs to consistent Superior ratings at UIL Concert & Sight-Reading Assessments. Mr. Griswold has been nominated for Golden Eagle Teacher of the Year three times in four years while teaching in Argyle ISD and is currently pursuing his Master's Degree in Choral Music Education at the University of North Texas. Mr. Griswold's professional affiliations include TMEA, TCDA, and the AEA, all of which have been instrumental in his development as a teacher.
Outside of music, Mr. Griswold loves spending time in the community with his wife Olivia, visiting family, eating at his favorite restaurants, and cheering on all of the DFW professional sports franchises, especially his coveted Cowboys, Mavericks, and Rangers!
Page last updated 4:10 PM, July 16, 2020