Outreach Programs
Project INVEST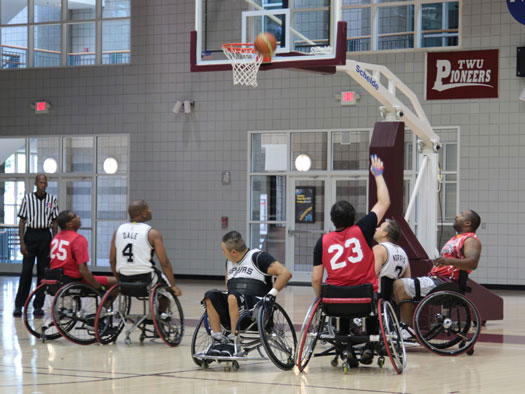 Project INVEST (INjured Veterans Entering Sport Training) offers injured, ill and wounded military, both active duty and veterans, adaptive sports and activities at various locations across North Texas. Our mission is to serve those who have served by building strength through sport and confidence through competition.
As a Kinesiology student at TWU, you can participate in this program. Volunteering, research and learn about the physical and psychosocial disabilities that affect veterans. Gain specialized skills and experience for your future career, while giving back to those who have protected our country.
LEAD-UP: Free Diabetes Wellness Program
Are you diabetic, pre-diabetic or at a high-risk of developing diabetes? TWU's Kinesiology department offers a free fitness and wellness program just for you.
Participants in LEAD-UP (Lifestyle Education Access for Diabetics: a University Program) get one-on-one nutrition counseling, attend monthly workshops and can use the university's indoor walking track and weight room machines at no charge. For more information, check out the LEAD-UP website.
AWAVE: Adapted Water Activity Venues for Everyone
AWAVE at Texas Woman's serves community members with disabilities to assist in their overall health and fitness. Initiated several years ago by Ron Davis, PhD, AWAVE's program goals for participants range from addressing flexibility, range of motion, maintaining and increasing muscular strength and endurance and to maintain or improve coordination and balance through the use of an aquatic environment.
As part of AWAVE, participants complete an initial assessment to gather baseline information on their range of motion, balance, coordination, muscular strength and endurance. Undergraduate students in the School of Health Promotion & Kinesiology then use this information to design an aquatic program to address potential areas for improvement. The undergraduate students then work closely with AWAVE participants to implement the program.
AWAVE meets on selected Tuesdays and Thursdays during the Fall and Spring semester from 2:30 - 3:30 p.m. This is a free program thanks to the generous support from the School of Health Promotion and Kinesiology.
For more information, please contact Michelle Ferrer, PhD at 940-898-2571 or mferrer3@twu.edu
Page last updated 11:19 AM, May 17, 2023