Golfing career set stage for Kanwar's research interest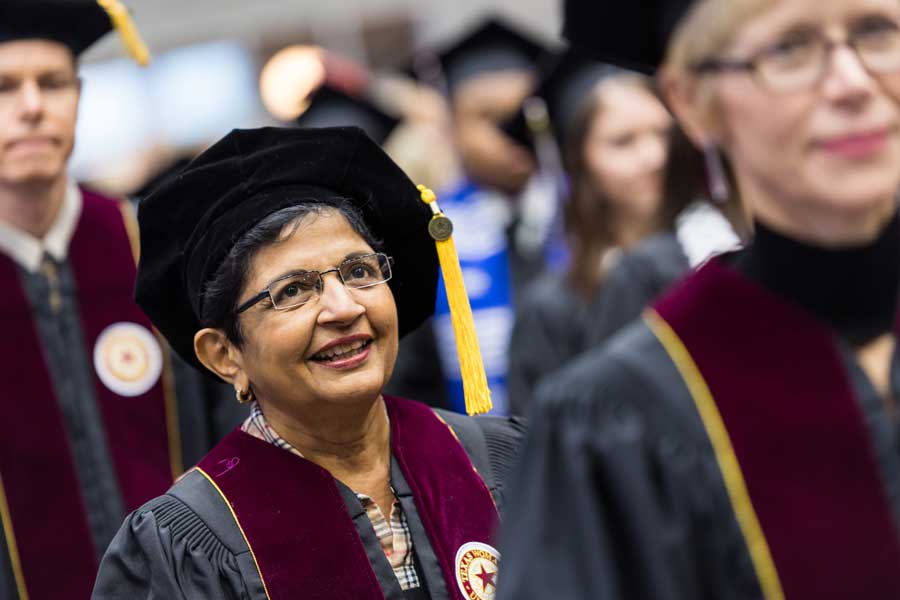 Kiran Kanwar's area of research may not be the kind you'd expect to be conducted on a typical college campus. But then, Kanwar isn't your typical researcher.
At 63, she just completed her Ph.D. in kinesiology with a concentration in biomechanics. She's working on a golf swing that she developed in her home country, India. And she's drawing from her PGA and LPGA coaching experiences, her more than 30 years of developing golfing techniques and her research in biomechanics to perfect a golf swing that causes less wear and tear on the body and is more effective on the links.
She chose TWU for its biomechanics program, which offered her that research opportunity. Additionally, she recognizes TWU as being an empowering school for female students. During her studies, she came to appreciate how women of many backgrounds were able to achieve their dreams, become leaders and serve as role models. She herself has attained that status, becoming the first female golf teaching professional in India.
Kanwar credits Drs. Mark Mann and David Nichols with being by her side and enabling her to do the research she set out to do. She wants her journey of receiving a doctorate degree at age 63 to teach her grandson, Kabir, that with hard work, one is never too old to achieve goals.
Next up for Kanwar is more golf — as an instructor and as a golf science consultant in southern California, putting into practice what she's devoted her life to.
Media Contact
Matt Flores
Assistant Vice President, University Communications
940-898-3456
mattflores@twu.edu
Page last updated 8:43 AM, December 18, 2019