News & Events
3/5/20
Two teams of kinesiology students proudly represented Texas Woman's and the School of Health Promotion and Kinesiology by competing in the Texas Chapter of the American College of Sports Medicine (TACSM) Student Bowl Competition against 36 teams representing 23 universities. The TWU Maroon Team, which earned second place in the competition, consisted of Kylie Eynon, Maddie Hoffman and Dreanna McAdams. The TWU White Team consisted of Samantha Brandt, Madeline Boutwell and Ansah Qureshi.
2/28/20
Associate Professor Rhett Rigby, PhD, researches how a combination of horseback riding and brain-building activities may help improve motor skills in children with neurodevelopmental conditions like autism-spectrum disorders and ADHD.
12/18/19
Kiran Kanwar's area of research may not be the kind you'd expect to be conducted on a typical college campus. But then, Kanwar isn't your typical researcher.
At 63, she just completed her Ph.D. in kinesiology with a concentration in biomechanics.
11/19/19
Texas Woman's University sends its third team of senior undergraduate kinesiology students to the Texas Space Grant Consortium Design Challenge Showcase in Houston this week. They will compete against engineering and technology teams from universities across the state who are working to solve research problems identified by NASA. TWU's Good Vibrations will be the only team to have a project focused on the human aspect of space travel.
7/19/19
A unique sports camp for students who are blind, visually impaired or deafblind has set up shop at Texas Woman's University in Denton. Camp Abilities Texas gives local children and teens with sight impairments the chance to experience sports like gymnastics, swimming, indoor rock climbing, tandem biking and beep baseball. Camp instructors, many of whom are enrolled in the School of Health Promotion and Kinesiology, get hands-on experience in their fields while also giving campers one-on-one instruction in adapted physical education. The one-week camp, which is put on by the Denton Public School Foundation, takes place each summer.
4/23/19
Texas Woman's alumna Luci Romberg has come a long way since her time as a two-sport student athlete at TWU. Today, she's a professional stuntwoman in some of the world's biggest blockbusters and part owner of a freerunning business.
4/2/19
Texas Woman's University professors Kathleen Davis, Ph.D. (nutrition and food sciences) and Marilyn Massey-Stokes, Ed.D. (health promotion and kinesiology) recognized a need for new approaches to combat childhood obesity. A current research project may give them the answers – and it may be as simple as picking up a cellphone.
Veterans Run | Bike | Roll event - April 6, 2019
FREE AND OPEN TO THE PUBLIC
All are invited to join fellow veterans and families at this run, bike and wheelchair event to be held April 6 at South Lake Park, 556 Hobson Lane, Denton, TX 76205.
Schedule of events:
7-8 a.m. - Registration & Sign In
8:30 a.m. - 3K Fun Run/Walk
8:35 a.m. - 3K Bike
8:45 a.m. - 1.2K Wheelchair
Event sponsored by Texas Woman's University and Project INVEST.
For more information, contact Ron Davis at rdavis4@twu.edu of 940-898-2589
12/11/18
Kinesiology senior Audra Romans made the most of her Texas Woman's undergraduate experience as an Honors Scholar, Pioneer Ambassador, Kinesiology Club member and student employee in several departments on campus. Then, during her final semester, Romans and five other kinesiology students competed and won first place as TWU's inaugural team in the Texas Space Grant Consortium (TSGC) Design Challenge, sponsored by NASA.
11/20/18
The first time was a charm for a team of six Texas Woman's University students who won best overall team accolades at the Texas Space Grant Consortium (TSGC) Design Challenge Showcase held in Houston on Nov. 12.
10/31/18
A Texas Woman's kinesiology team is going where no TWU students have gone before – a project competition in support of space exploration.
7/24/18
Texas Woman's University's biomechanics labs provide a way for our Kinesiology students to combine classroom theory with real-world application. A group of these students put this experience into practice on National Biomechanics Day 2018, when they invited 27 Aubrey high schoolers into the labs for a fun day of movement and motion. Their creative event recently received top recognition from the American Society of Biomechanics.
5/1/18
As a Texas Woman's honors student, Ayana Georges (B.S. '18) knew she wanted to make a difference in the world of kinesiology. This prompted her to begin her award-winning research, which received top honors at the 2018 Great Plains Honors Council (GPHC) Conference held in March.
Time to Cheer for Project INVEST - June 16-18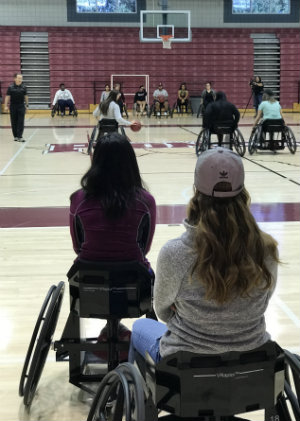 Put on your TWU gear and come to Channel 8's Daybreak Party on the Plaza, 5-7 a.m., June 16, at WFAA's Studios at Victory Park (3030 Olive Street) in Dallas. Help us cheer for TWU's own Ron Davis, PhD, kinesiology professor and organizer of Project INVEST, who will be on camera promoting the Southwest Military Wheelchair Basketball Conference Tournament being held this weekend in TWU's Pioneer Hall in Denton. Free breakfast will be provided at the Daybreak Party.
Project INVEST (INjured Veterans Entering Sport Training) offers injured, ill and wounded military, both active duty and veterans, adaptive sports and activities at various locations across North Texas. Our mission is to serve those who have served by building strength through sport and confidence through competition.
All activities related to the basketball tournament are free to the public. An exhibition game between first responders and veterans will be held at 6 p.m., June 16, at the Cross Timbers YMCA, 2021 Cross Timbers Road, in Flower Mound. On June 17–18, tournament play continues at TWU. All are welcome.
KINS Alum Awarded School Teacher of the Year Honor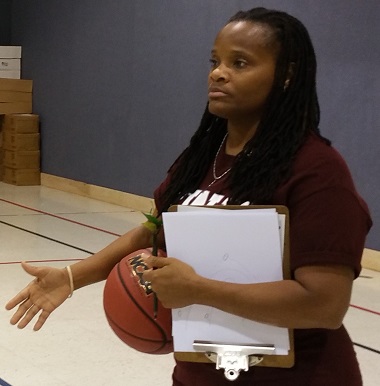 After graduating from TWU with her bachelor's (2010) and master's (2013) degrees in kinesiology, Nicole Arrington was ready to be a physical educator - and an excellent one at that. Arrington recently was named 2017 Teacher of the Year at Texas Academy of Biomedical Sciences (TABS) in the Fort Worth ISD.
"I do my utmost to instill in my students the love of movement not just in the gym but outside of it as well," she said.
With this recent award, her enthusiasm for her school and her students was recognized by her fellow teachers. Arrington has taught at TABS for six years.
"TWU's kinesiology department made the most impact on me as a successful physical educator, as did the health and education departments," she said. "I can't thank my professors at TWU enough for instilling in me the desire to make a significant difference in the lives of young people."
Page last updated 3:18 PM, March 5, 2020