National Internship Programs for Students of Color
The internship programs listed below are a small sample of programs that are focused on recruiting and hiring undergraduate and graduate students from underrepresented racial and ethnic communities.
We encourage you to research other internship sources in addition to what is listed below. If you would like assistance applying for these programs or want to learn more about them, please reach out to us.
For questions or assistance with applying, please schedule an appointment with the Office of Internships & Experiential Learning.
All industries
Inroads has helped businesses gain greater access to diverse talent through continuous leadership development of outstanding ethnically diverse students and placement of those students in internships at many of North America's top corporations, firms, and organizations.
Hispanic Association of Colleges and Universities
HACU is "opening doors of opportunity – abriendo puertas de oportunidad" for all students and placing them in paid internships in all areas.
Management Leadership for Tomorrow (MLT) Career Prep Fellows
MLT equips and emboldens high-achieving women and men from underrepresented communities – African American, Latino/a, and Native American- to realize their full potential, to make a mark and make a difference.
Business / Finance & Banking / Technology & Computer Science
Connects Black and Latinx tech talent with companies, mentors, and peers committed to racial equity and inclusion in the tech sector
Recruits Black and Latino computer science and engineering students into tech internships and fast growing companies, in order to increase the number of underrepresentation high-skilled minority employees in Boston while training, coaching, and mentoring both employers and the employees throughout the experience.
Seizing Every Opportunity (SEO)
SEO recruits and trains high achieving Black, Hispanic and Native American college students for challenging summer internships with leading investment banks and Fortune 500 companies.
Communication / Journalism / Media & Technology / Advertising & Marketing
The Fellowship Program recruits promising students of color and places them in a multi-year paid internship at some of the nation's leading media companies.
Multicultural Advertising Intern Program (MAIP)
MAIP allows students of color to work at prestigious advertising agencies on various accounts, interact with advertising professionals on a day-to-day basis, and gain valuable professional credentials to get their first job in the industry.
National Association of Black Journalists (NABJ)
NABJ is dedicated to expanding job opportunities for our student members and improving the media's coverage of the black community.
Howard Foundation – Internship Program
Is dedicated to increase the participation of diverse and underrepresented college students and young professionals in the media and entertainment industry.
Creative Arts / Visual Arts / History
Getty Marrow Undergraduate Internship Program
Aiming to encourage greater diversity in the professions related to museums and the visual arts, the Getty Marrow Undergraduate Internship Program in Los Angeles supports substantive, full-time summer work opportunities for college undergraduates from cultural backgrounds that have traditionally been underrepresented in the arts.
Mellon Summer Academy and Undergraduate Curatorial Fellowship Program
Provides specialized training in the curatorial fields to students across the United States from historically underrepresented groups in the curatorial field who support the goal of promoting inclusive, pluralistic museums.
Smithsonian Diversity Awards Program – Internship
Offers these internships to increase participation of groups who are underrepresented in the disciplines of research conducted at the Institution and in the museum field.
Environment / Sustainability
Government / Law / Public Policy
American Bar Foundation – Undergraduate Research Diversity Fellowship in Law and Social Science
Introduces undergraduate's students to the rewards and demands of a research-oriented career in the field of law and/or social science and encourages a diverse and inclusive community for underrepresented individuals in these fields.
Asian Pacific American Institute for Congressional Studies
Is designed for AAPI undergraduate aged students looking to increase their experience in public policy and service, while being placed in US Congressional offices and federal agencies over the summer.
Congressional Black Caucus Foundation (CBCF)
CBCF Prepares college students and young professionals to become principled leaders, skilled policy analysts, and informed advocates by exposing them to the processes that develop national policies and implement them – from Capitol Hill to federal field offices.
Congressional Hispanic Caucus Institute (CHCI)
CHCI Congressional Internship Program provides paid summer and semester internships, promising Latino undergraduate students experience what it's like to work in a congressional office, while participating in weekly professional and leadership development and civic engagement through community service.
Congressional Hispanic Leadership Institute (CHLI)
Advancing the Hispanic Community's diversity of thought – through a 15-week, semester-long internship program working in a congressional and corporate legislative affairs office in Washington D.C.
Federal Diversity Internship Initiative
Joining students from a variety of backgrounds – in partnership with multiple U.S. federal agencies, this program will give you the opportunity to experience what it's like working for the U.S. government.
Minority Access' National Diversity & Inclusion Internship Program
Designed to allow talented undergraduate students experience the diversity and scope of career opportunities available in the federal government and other participating entities.
Native American Congressional Internship
Provides American Indian and Alaska Native students with the opportunity to gain practical experience with the federal legislative process in order to understand first-hand the government-to-government relationship between Tribes and the federal government.
Health Studies / Public Health / Health Care
Summer Public Health Scholars Program (SPHPS)
SPHPS is a rigorous program which includes Public Health coursework at Columbia University; hands-on field experience and immersion in a diverse, economically disadvantaged urban environment; seminars and lectures with public health leaders; and mentoring by faculty members, ensuring students' exposure to the breadth and importance of public health as a career option.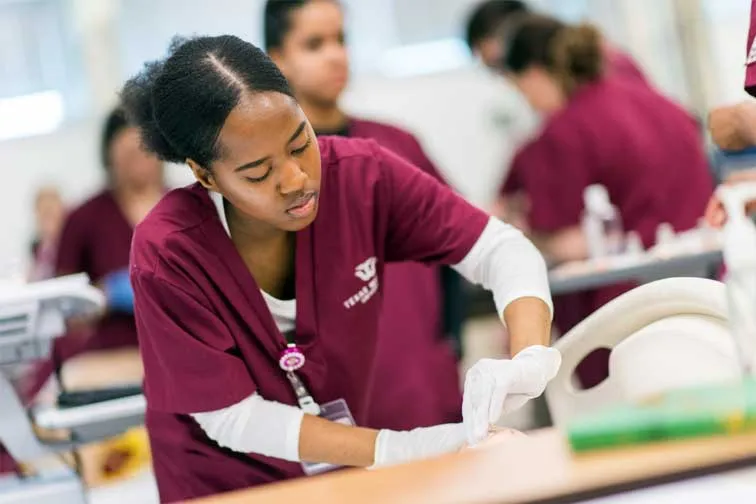 Diversity Summer Internship Program for Undergraduates (DSIP)
A 10-week summer program that provides undergraduates from underrepresented and economically disadvantaged areas, with a graduate-level, independent research project in the biomedical or public health field.
Maternal Child Health Careers/Research Initiatives for Student Enhancement – Undergraduate Program (MCHC/RISE-UP)
The MCHE/RISE-UP provides opportunities, especially scholars from underrepresented populations, for enhanced public health leadership training in the area of maternal and child health focusing on social determinants of health, elimination of health disparities, and developmental disabilities.
Public Health Leader Fellowship Program (PHLFP)
PHLPF at Morehouse College is a rigorous 10-week summer program designed to prepare underrepresented, culturally sensitive, undergraduate students for leadership roles in the field of public health. A principal aim of the program is reducing health disparities.
An 11-week summer internship program designed to increase the knowledge and skills of underrepresented minority students in biostatistics, epidemiology, and occupational safety and health.
UCLA Public Health Scholars Training Program
Provides undergraduate students the opportunity to explore the field of public health through hands-on training, structured workshops, group excursions, and leadership and professional development – focusing on health equity.
University of Michigan Future Public Health Leaders Program (UM FPHLP)
A 10-week summer program that provides students from underrepresented backgrounds with opportunities for growth, learning and awareness in the field of public health.
Medicine / Science & Research
The Keck School of Medicine's Bridging the Gaps Summer Research Program
Provides an opportunity to outstanding minority students to gain meaningful exposure to exceptional research and clinical programs.
Duke Summer Research Opportunity Program (SROP)
SROP is a 10-week training program designed to give motivated undergraduate students, from underrepresented groups, hands-on experience in graduate-level biomedical research.
Massachusetts General Hospital Summer Research Trainee Program (SRTP)
SRTP inspires students who are underrepresented in medicine to consider careers in academic medicine by immersing them in cutting-edge research opportunities.
Page last updated 1:08 PM, February 1, 2023