Certificate Program
Post-Baccalaureate Certification in Interprofessional Informatics Program
Our 100% online certificate is perfect for working professionals with bachelor's degrees who are seeking additional education and training in data science.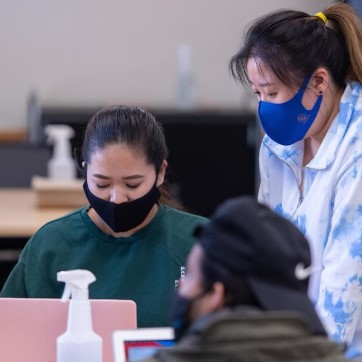 Our certificate will provide you with:
Academic and supervised practicums

Content includes technology-based health promotion, data application, interaction design and telehealth.

A synthesis course integrating and applying program content

An interprofessional education/collaborative approach to learning.
Our program is designed for students from a variety of disciplines including but not limited to: nursing, occupational therapy, physical therapy, nutrition science and health systems management. Students with limited experience in informatics may be required to take an introductory course in informatics based upon advice of the program coordinator or faculty.
Admission standards for the certificate
Our certificate program requires a bachelor's degree. This program is ideal for graduate students in physical therapy, occupational therapy, nutrition, nursing, health science, technology, business and other majors related to the healthcare profession.
Students must:
Hold a baccalaureate degree from an accredited institution of higher education, either health sciences- or non-health sciences-based.

Complete an application to the Certificate Program.

Have a 3.0 GPA minimum for all prior course work.

Present an official transcript from each university or college attended with degree earned with the application.

Standardized examinations such as GRE or MAT are not required.
How to apply
Apply online at ApplyTexas.org. When selecting your major, please be sure to select "Post-Bacc Certificate in Informatics".
Need more information?
For complete information regarding the Post-Baccalaureate Certification in Interprofessional Informatics Program, contact:
Mikyoung Lee, PhD, RN
MikyoungLee@twu.edu
940-898-2424
Page last updated 2:52 PM, September 7, 2021