TWU family studies PhD student receives 2020 Virginia Chandler Dykes Scholarship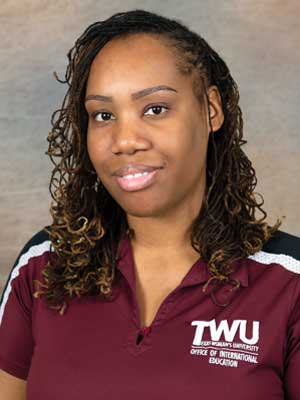 Lorna Durrant, an international graduate student pursuing her Ph.D. in family studies, will receive the 2020 Virginia Chandler Dykes scholarship from the College of Professional Education.
Originally from Jamaica, West Indies, Durrant has overcome obstacles along her journey that include leaving her family to come to a new country, the death of her father, and her mother's loss of her foot due to diabetes.
"I cannot believe how far I have come, and I feel humbled to be chosen for this prestigious scholarship," said Durrant. "I am truly blessed to have worked with so many amazing faculty members at TWU, which provide an environment that feels like family and has also made me feel empowered as a woman."
Since 2015 Durrant has worked as an instructor in the Department of Human Development, Family Studies and Counseling. She has a master's in juvenile forensic psychology from Prairie View A&M University and a bachelor's in psychology from Northern Caribbean University. Her goals are to become a college professor to positively affect lives of her students, as well as a certified family life educator to equip families with tools they need to thrive.
Durrant was drawn to work with families by professional and personal experiences, believing working with families rather than individuals is more effective. The traumatic life and death of her brother illustrated her conviction that working in a preventative manner instead of reactive is best.
The recipient of numerous scholarships, Durrant was honored to be nominated by students for the STAR (Students for Teaching and Assignment Recognition) Symposium.
About Virginia Chandler Dykes scholarships
Five graduate students, one from each of the five colleges at Texas Woman's University, will receive Virginia Chandler Dykes scholarships at the Feb. 20 TWU Dallas Leadership Luncheon, founded by Virginia Chandler Dykes. The annual luncheon is presented by the Bank of Texas, Texas Woman's University, and the Texas Woman's University Foundation, and will be held at The Belo Mansion and Pavilion in Dallas.
In the past 17 years, more than $1 million has been raised for scholarships from the proceeds of this luncheon. This year's Dallas Leadership Luncheon will honor Jennifer Staubach Gates, Dallas City Councilmember, as the recipient of the 2020 Virginia Chandler Dykes Leadership Award.
Media Contact
Staff Reporter
940-898-3456
Page last updated 1:02 PM, February 4, 2020