Sylvia Garcia (BA '72)—U.S. Congresswoman
Public service a common denominator in congresswoman's career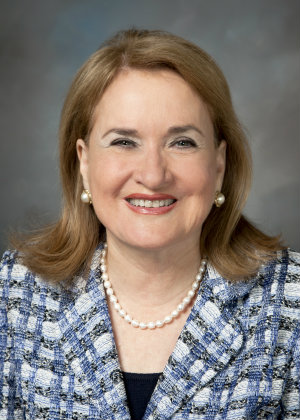 If there is a gene for leadership and public service, it can be found in Sylvia Garcia's DNA.
The former Texas Woman's University graduate (BA '72) and current U.S. congresswoman representing Houston's 29th District is no stranger to being in leadership posts and helping disadvantaged people.
As a first-term congresswoman, Garcia in 2020 became the first Hispanic – and one of three women – to ever be selected as an impeachment manager in a presidential impeachment trial.
Garcia has been a pioneer in other ways, too. In November 2018, she was one of two Latinas in Texas to become the first to be elected to the U.S. House of Representatives. And prior to that she became the first Hispanic and first woman to be elected to the Harris County Commissioner's Court.
But it is her commitment to public service and dedication to helping people from disadvantaged backgrounds that truly defines who she is as a person.
As the COVID-19 epidemic became increasingly pervasive this summer in her home district, which includes medically underserved pockets of Houston, Garcia and her staff stepped up to collect roughly 20,000 critically needed N-95 face masks. The masks were delivered to four medical centers and clinics.
Garcia's public service includes five terms as a presiding municipal court judge in Houston, two terms as a city controller, and a stint as a Harris County commissioner. She became a state senator in 2013, after being elected to serve out the term of the late Mario Gallegos.
Garcia has served on more than 25 boards and commissions, such as the San Jacinto Girl Scouts, the Houston Hispanic Forum and the American Leadership Forum. She has also won numerous awards and has been recognized repeatedly for outstanding service, including being named "Humanitarian of the Year" by the National Conference of Communities and Justice.
That nurturing spirit was evident early on, even as she was growing up in the South Texas farming community of Palito Blanco with nine brothers and sisters. Her family struggled and the children learned early about supporting one another and receiving an education to get ahead.
She worked hard and earned a scholarship to attend Texas Woman's University, where she graduated with a degree in social work and political science – a prescient sign of the direction she was headed. She also developed strong leadership instincts while active in student government at TWU.
After graduating, Garcia earned a doctor of jurisprudence at Thurgood Marshall School of Law at Texas Southern University in Houston, where she eventually made her home.
"I feel the responsibility to empower others, just as TWU empowered me," Garcia said. "My central mission is to empower the next generation to keep up that fight. I truly am constantly guided by the TWU purpose: 'educate a woman, empower the world.'"
Related stories:
TWU Chancellor Feyten Interviews U.S. Representative Sylvia Garcia
Page last updated 2:12 PM, September 21, 2020