Roxanne Gonzales-Vogel (MS '17)—Mountaineer & Sports Nutritionist
Alumna pushes the limits to reach the top of the tallest mountains on Earth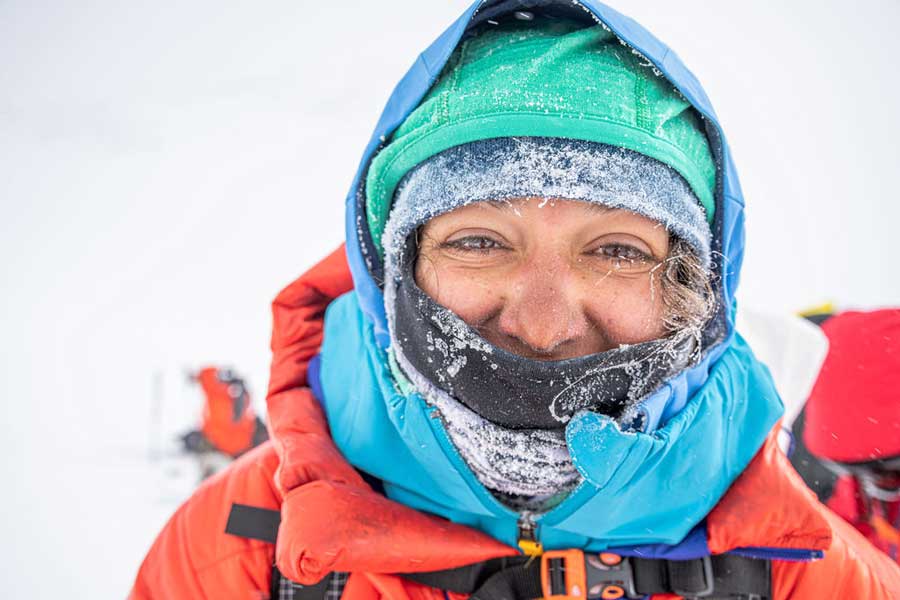 As a mountaineer who has scaled the tallest mountain on each of the seven continents, Roxanne Gonzales-Vogel knows what it's like to brush against the Earth's sky.
But now, she's reaching for the stars.
The Texas Woman's University alumna, who earlier this year reached the summit of Antarctica's Mt. Vinson — completing the spectacular feat of climbing the highest summits on each continent — now has her sights on completing a PhD in nutrition and working with NASA.
Her dissertation is focused on nutrition to support endurance performance in the heat, an issue that astronauts encounter in spaceflight when their core body temperature increases. That could be dangerous, as astronauts are expected to exercise, which further elevates body temperature and may result in hyperthermia and could compromise safety and mission performance.
"My dream is to work with NASA or to study astronaut physiology and develop products for extended spaceflight," said Gonzales-Vogel, who currently is the nutrition and performance research manager at GU Energy Labs in California.
Gonzales-Vogel, who earned her MS in exercise and sports nutrition at TWU in 2017, knows what it is like to push the body to its limits. She completed her lightning ascent of Mt. Everest, the tallest summit in the world, in May 2019. She completed the climb in an astonishing 14 days, which included travel from her hometown of Berkeley, Calif. to Mt. Everest and back home. The average climber takes two months to scale the mountain and return to its base.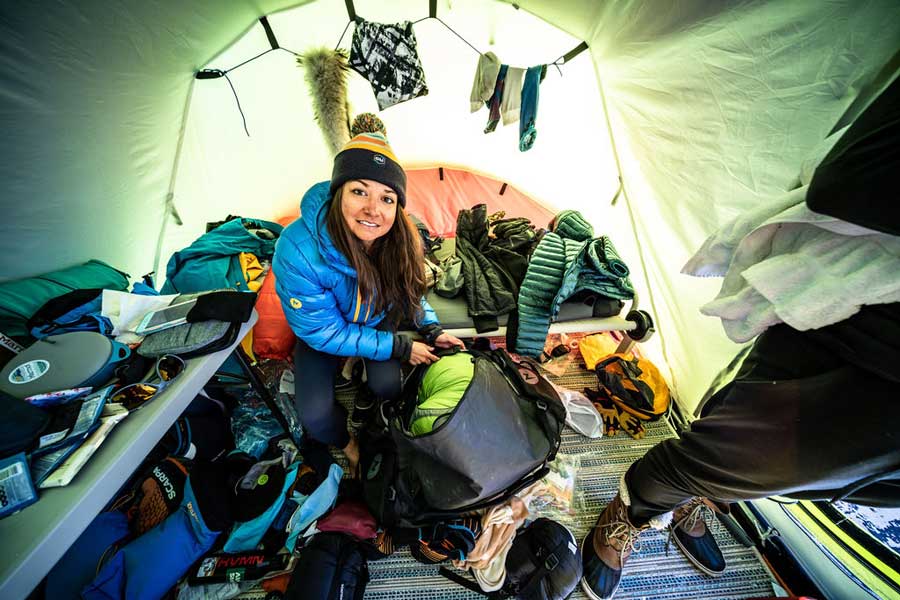 Gonzales-Vogel spent three years training for the Mt. Everest climb by scaling other tall peaks, completing high-altitude, long-distance runs, and working and sleeping in oxygen-limiting quarters to simulate conditions on the mountain. She also maintained a meticulous diet and grueling exercise regimen to keep her body in tip-top shape.
Effectively, Gonzales-Vogel used her own body to scientifically test the effects of the rapid ascent. "You could say that this is as much about science as it is personal fulfillment," Gonzales-Vogel said before making her trip to Everest.
Besides scaling the earth's tallest mountains, Gonzales-Vogel also has reached the summits of six of the planet's tallest volcanoes, the last of which she completed just two days after reaching the top of Mt. Vinson in Antarctica.
To reach the peak at Mt. Sidley, Gonzales-Vogel and a small team traveled to one of the most remote spots on Earth, which is about 600 miles from Union Glacier camp and has been climbed by fewer than 50 people. She described the location as "beautiful and isolated." That feat leaves her just one shy of completing her goal of scaling the seven tallest volcanic peaks, the last of which is in Iran.
With her energy focused on her dissertation and her passion for getting a job with NASA, not to mention an ongoing global pandemic, "Iran might be a while before I get there," she said.
Page last updated 2:18 PM, September 21, 2020