Requirements For Shared Lab Spaces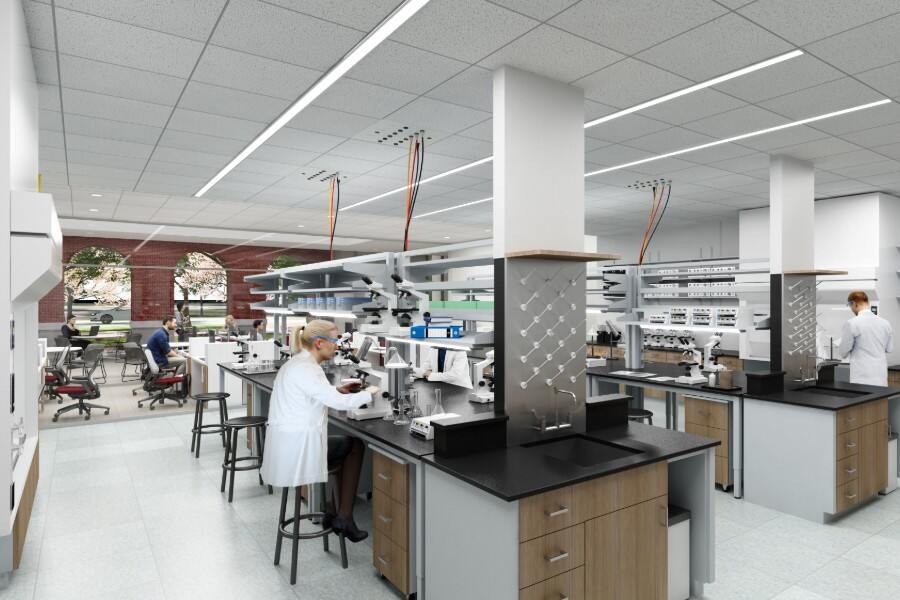 Shared lab spaces can present unique challenges when it comes to lab safety. The Office of Environmental Health & Safety created the following guidance to help Principal Investigators navigate these challenges.
WASTE DISPOSAL
To ensure timely radioactive and chemical waste removal schedule pick up immediately when containers are full.
Biohazardous waste containers should be removed at 50-75% full and taken to be autoclaved.
Sharps containers should be closed at 2/3 to 3/4 full and a waste pickup request submitted to EHS.
Each chemical waste container must be labeled with all contents or have an associated inventory sheet of its contents. Do not use abbreviations.
Secondary containment of liquid waste containers is even more important in a shared lab. Prevent accidents from happening!
Do not share chemical waste containers with other lab groups as dangerous unexpected chemical reactions could occur.
LABELING
Label all hazardous material and equipment. Use warning signs to designate particular hazards.
TWU's Chemical Hygiene Plan requires that all lab members understand the labeling practices used in the lab. Labels should be descriptive enough that EH&S and Emergency Responders can determine a chemical in event of an emergency where lab members are not present.
SAFE WORK PRACTICES
18-inch clearance from the ceiling is required for storage.
Fume Hoods shall not be used to store chemicals.
Organize with your neighbors into floor groups and meet regularly to discuss safety expectations in the shared space and any concerns. Take the opportunity to discuss other important concerns such as housekeeping expectations, lab staffing schedules, protocols for sharing chemicals and equipment, etc. You can reference the

Shared Lab Space Suitemate Agreement Discussion Topics

document for talking points.
Open collaborative lab spaces require vigilant and continually improving work practices. Consider your laboratory neighbors in all aspects of your work.
Cross-contamination risks are greater in a shared lab space. Use care in performing experiments.
Notify collaborators of routine maintenance on shared equipment and potential problems from any laboratory devices.
Practice good housekeeping and universal precautions always. Good housekeeping is respectful to your fellow suite-mates and can prevent safety issues. Universal precautions means wearing appropriate PPE even when you think it may not be necessary. Do not take any unnecessary risks. Safety First!
If you have a question as it relates to safety, please do not hesitate to contact EH&S. EH&S is a resource for practicing safe science!
EMERGENCY RESPONSE
Do not block aisles, hallways, and exit routes. Placement of small portable file cabinets and mobile carts in these areas is prohibited.
Know the location of your eyewash and safety shower before you need to use them. Keep these areas clear and unobstructed.
Set up a schedule to test eyewash stations weekly. Personnel from the Chemistry Department and/or Risk Management will be responsible for testing safety showers regularly.
Notify neighbors immediately in the event of a spill. Ask for help from your immediate neighbors and have a communication plan for emergencies.
Notify neighboring groups that you are conducting experiments using hazardous materials. Consider the worst possible scenario and have a plan for when things go wrong.
Each PI is responsible for ensuring they have access to a well-stocked spill kit. This can be accomplished either by the PI maintaining an individual spill kit OR, though utilizing a shared-lab spill kit. Note, if utilizing a shared-lab spill kit, a protocol must be in place to inspect the kit monthly and to ensure the kit is re-stocked after each use.
TRAINING
PIs are responsible for ensuring their lab members have completed all applicable training. Training includes:
Hazard Communication Training
Hazardous Waste Training
Laboratory Safety Training and all applicable modules. These modules must be taken if the hazard is present in the lab space, even if the lab user does not work with these hazards directly. They include:

Vacuum and Pressure Operations
Compressed Gases
Heating Operations
Cryogenics and Cooling Operations
Particularly Hazardous Substances

Bloodborne Pathogens Training** (if working with blood or other potentially infectious material (OPIM)
Fire Safety and Evacuation Training (if employed by TWU)
Stormwater Pollution Prevention Training (if employed by TWU)
CITI Biosafety Training OR BSL-2 Awareness Training (if applicable)

All SRC labs on the 2nd

and 3rd

floors are designated as BSL-2. If lab users do not work with biohazardous agents directly (i.e. have CITI Biosafety training) then they must complete the Risk Management BSL-2 Awareness training.
**If a PI's lab users, which are employed by the university, work with blood or OPIM (e.g. Graduate Assistants), they must ensure that these lab users have been offered a Hepatitis B vaccine within 10 days of employment.
If these lab users are volunteers, they must provide documentation of their vaccination to the department before working with these materials. The PI must ensure that this documentation has been submitted.
Page last updated 9:19 AM, June 16, 2021