Dual Degree: MBA and MHA
One college, two master's degrees.
Acquire a fundamental set of health services management skills along with innovative business training at the same time. Our specialized dual degree program consists of 57 credit hours* which can typically be completed in three academic years. This is time well invested to obtain the skills needed to set yourself apart and be an innovative leader in both the business and health care sectors.
Dual Degree: MBA and MHA program features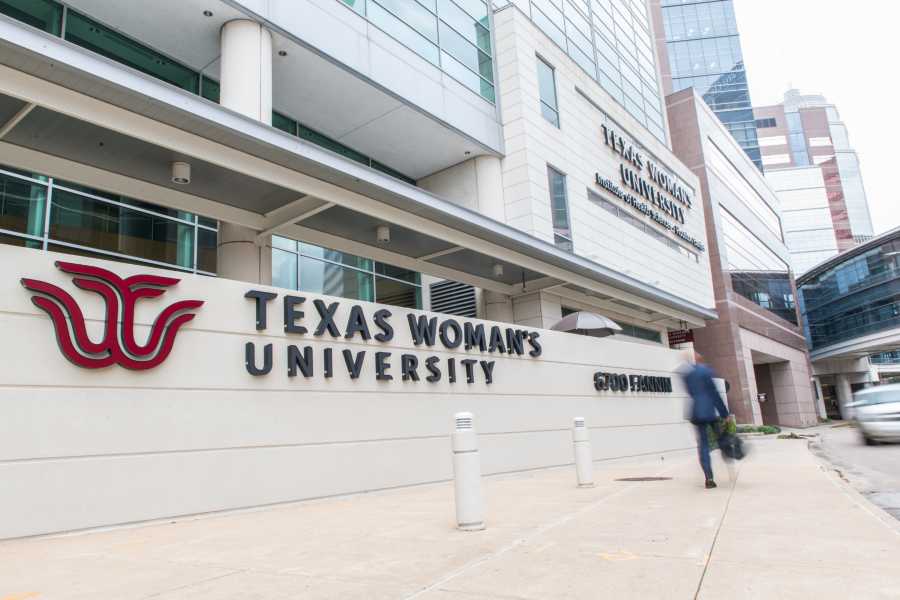 Enjoy the flexibility of online MBA and a combination of hybrid and face-to-face MHA class options
Classes with accessible, knowledgeable and supportive faculty
57 semester credit hours, not including program prerequisites, if required*
GRE/GMAT required for MHA Admission**
*Individual requirements may add up to 18 credit hours in one or both degrees independently
**GRE/GMAT requirement is temporarily suspended in response to the COVID-19 pandemic.
Why MBA/MHA at TWU
Complete two highly sought after degrees simultaneously
Two highly marketable degrees combined into one streamlined program. The MBA/MHA dual degree is designed to combine study of both general business and the business of health services. Students must apply to each program separately and be admitted to both. The program can typically be completed in three academic years if students attend on a full-time basis, depending on whether or not prerequisite courses are assigned. Graduates will receive both degrees.
A unique perspective in the business side of health care
The strength of the dual degree lies in the fact that it applies the theoretical concepts of business administration to the management of health care organizations. Graduates acquire skills in both the business and health care sectors to widen fields of career opportunities.
CAHME Accreditation
TWU's Accreditation Status by CAHME: Accredited with probation. Action plan in place.
Accredited and highly ranked
The College of Business is now accredited from AACSB International

—The Association to Advance Collegiate Schools of Business (AACSB), considered the world's leading association of business schools. Less than 6% of business schools worldwide have earned this distinction.
Texas Woman's also ranks 6th (tied) among U.S. universities for diversity, according to U.S. News & World Report.
Careers & salaries*
With these degrees, you have multiple career opportunities including:
Director of Operations: $101,716
Medical and Health Services Manager: $99,730
Administrative Services Manager: $96,180
Chief Executive Officer: $193,850
Director, Revenue Management: $100,613
*Median salaries, according to the U.S. Bureau of Labor Statistics and Payscale.com
Application deadlines
The College of Business admits students on a continual basis. Please contact the college for more information.
Admission to the Dual M.B.A. & M.H.A. Degree
Program Contact
Pushkala Raman, Ph.D.
Graduate Program Director
mba@twu.edu
Application Deadlines
The College of Business admits students on a continual basis. Please contact the College for more information.
Dual MBA & MHA Admission Requirements
Resume
Foundational coursework may be required based on your previous academic and/or professional experience.
Applicants with a GPA of 3.00 or higher in their last 60 hours of undergraduate coursework will be considered for unconditional admission. The GRE is not required.
Applicants with GPAs between 2.5 and 2.99 in their final 60 undergraduate hours will be considered for conditional admission.

After successful completion (with grades of A or B) of 12 hours of graduate level courses (4 - 3 credit courses) the applicant will be moved to unconditional status.

Applicants are expected to be proficient in current tools of Business: Microsoft Office suite of products (Word, PowerPoint, Excel, and Access). Admitted applicants that need to enhance their proficiency in any of these areas will have free tutorials available via Lynda.com.
The Healthcare Administration Program holds orientation for new students in the fall and spring semesters. It is a requirement that all new students attend one of these session. Information will be provided after acceptance to the program.
How to Apply
Begin by finding your program in TWU's Program, Majors & Degrees listings to see if your program has additional admission requirements and application deadlines prior to applying. (This information is for all programs. The application deadline for your specific program will be listed in the Program Requirements. Use that deadline as it applies below. (Example: if a program only admits once a year and has a Fall deadline for 2023 of March 1, you would need to be looking to apply to the next deadline for Fall 2024.)
Apply online.


Apply to Graduate Programs according to the start semester and application portals below:


Spring 2024 - All programs apply via ApplyTexas EXCEPT applicants to the College of Business, Child Life, or Child Development master's programs or the Child Development and Early Education PhD program who should apply via the TWU Online Graduate Application Portal.

Note: When applying through ApplyTexas, you will need to submit any required Documents directly to the program website.

Summer & Fall 2024 - All graduate programs apply via the TWU Online Graduate Application Portal. Required documents will be asked for and uploaded into the application.



Pay the application fee.
The $50 fee, ($75 fee for International applicants), which applies to all new and returning applicants can be paid by:

Credit card - Online through the portal you applied on (either ApplyTexas or TWU's Online Graduate Application).
Certified check or money order by mail or electronically - payable to TWU, sent by mail to:
TWU Admissions Processing, 301 Research Circle, Room 220; Denton, Texas 76204
(include your full name and ID number).
Cash (no personal checks) - Pay at the Bursar's Office. After paying, bring the receipt to Admissions Processing (2nd floor of GRB).
Fee Waivers - Graduate applicants who are certified McNair Scholars are eligible for a McNair Scholar application Fee waiver. Submit the request using the Application Fee Waiver Submission Form.



Submit transcripts to TWU.

Domestic Applicants must submit official transcripts for each college or university attended, both undergraduate and graduate. See the Information on Transcripts website for more details.
International Applicants are now required to provide an evaluation prepared by a NACES or AICE member evaluation service. International transcripts should not be sent directly to TWU. See the International Admission website for more details.
For more information on graduate admissions or to contact an admissions official, visit the Graduate Admissions website.
Students who wish to apply for a Graduate Assistantship must meet the General Criteria for Appointment of Graduate Assistants.
For more information
Pushkala Raman, PhD
Director of Graduate Programs
mba@twu.edu
940-898-2458
Page last updated 10:23 AM, September 6, 2023