Post-baccalaureate SLP Certificate in Deaf and Hard of Hearing
Are you interested in being a speech-language pathologist who works with children who are deaf and hard of hearing (DHH)? Enhance your degree with a certificate in Deaf and Hard of Hearing.
Program Features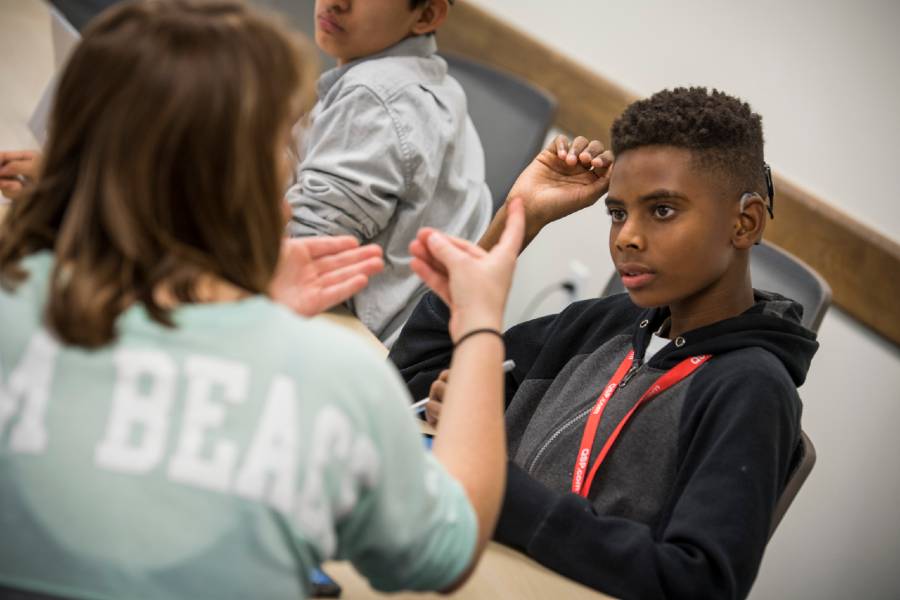 Program Requirements
In this certificate program you will complete 12 semester credit hours, with:
Nine semester credit hours (four classes) of academic coursework focused on evidence-based practice for SLPs working with children who are DHH
Three semester credit hours (75 clock hours) of a clinical practicum experience assessing and treating children who are DHH under the supervision of an ASHA-certified SLP with experience in this area (

NOTE: if you are already a licensed and certified SLP, you must secure an approved supervisor/mentor for this clinical experience.)
You must successfully pass a case study examination at the end of the program and earn grades of A or B in all classes.
A full list of courses and requirements are available in the course catalog.
Admission Requirements
Admission to the TWU Graduate School
When you apply to the TWU Graduate School, we will evaluate your academic achievement and preparation, as well as your standardized test scores if required. All students must meet the University requirements as outlined in the Admissions to the TWU Graduate School. In addition, most graduate programs have additional admission requirements that must be completed. These requirements can be found on each graduate program website. After acceptance, you will need to begin your program within one year, unless a deferral has been approved by the program.
Check out the links below for specific admissions information:
For questions contact
Erika Armstrong, PhD, CCC-SLP
Department Chair
MCL 835
earmstrong@twu.edu
940-898-2474

Page last updated 3:15 PM, June 16, 2020