Commencement

Schedule Update

Due to inclement weather forecasted for Friday morning, the College of Arts and Sciences ceremony at Texas Motor Speedway has been moved to Saturday at 2 p.m. We realize this may be inconvenient for some, but we need to ensure the safety of our graduates and our volunteers.
Congratulations 2020 Graduates!
Texas Woman's University is holding in-person drive-thru graduation events Dec. 11-13 in recognition of all May, August and December graduates. These unique off-campus events will be livestreamed.
The Denton/Dallas ceremonies will be held at Texas Motor Speedway in Fort Worth on Dec. 11-12. In Houston, the drive-thru ceremonies will be hosted by Heavy Construction Systems Specialists (HCSS) in Sugar Land on Dec. 13.
Learn more by clicking on these buttons.
Commencement Message from Our Chancellor
Graduates should arrive at their ceremony location in full regalia, as there will not be a place to put on your robe at Texas Motor Speedway or HCSS.
The TWU Campus Bookstore in Denton offers robes and other commencement-related items in its on-campus inventory. Stop by to pick up what you need for this weekend's events. The Bookstore will have a small tent set-up at Texas Motor Speedway in case you forget your tassel.
Place orders now for diploma frames and the Texas Woman's University class ring.
Online orders: colleges.herffjones.com/college/twu
Commencement events at Texas Motor Speedway and in Houston will be livestreamed for those who cannot attend in person. Click on the button below to view the livestream ceremonies in progress, starting Friday, Dec. 11.
Please note: Livestreaming of ceremonies at Texas Motor Speedway may be unavailable during inclement weather.
See Livestream
Graduates will have formal pictures taken at the commencement events, which will be sent to them at a later date. The university photographer will also be onsite to take photos of the activities. Check out the button below starting Friday, Dec. 11, for images captured at the various events. Houston photos will be added later.
Commencement Photos
Celebrating Graduates
Check out the downloadable graduation graphics you can share on social media, in emails or in your online celebrations. Be sure to tag #TWUGrad20 on your social media posts and follow @txwomans!
Commencement Program
Download the 2020 Dec. Commencement Program as a PDF.
Graduate Highlights
Every graduate of TWU has a compelling story and achievements worth celebrating. Below we share a few from our Class of 2020.
Sandhya Manjunath
MS in Kinesiology - Sport Management
TWU graduate gains experience and skills by creating international youth program.
Nhi Chau
BS in Mathematics (7-12 Mathematics Education)
Nixed study abroad plan leads to once-in-a-lifetime teaching experience.
Dianne Connery
Master of Library Science (MLS)
Besides books, rural librarian's focus is telehealth.
TWU business graduate uses research to develop skills for future career.
Kathleen Montes
Master of Music Therapy (MMT)
Music therapy graduate helps patients heal with hope and harmony.
Regan Dianne Campbell
Master of Arts: Writing and Rhetoric (MA)
Paranormal frequencies: TWU graduate investigates spooky sounds in media.
Marissa Valtierra
BS Social Work
Social work student is fighting on the front lines of the COVID-19 pandemic
Dorothy Nyarko Henking
MS Speech-Language Pathology
SLP graduate demonstrates unwavering determination to pursue new career path
Alexis Jennings & Julie Vo
BS in Nursing, Dallas
Blended program fast tracks nurses
Jackie Tran & Douglas Schwartz
BS in Nursing, Houston
Nursing students find reward in COVID-19 response
Amber Wake
MS in Nursing, Dallas
Graduate student assists with temporary hospital in Maryland
Becky Rodriguez
PhD in Sociology
Graduations still special for Rodriguez and son Photo credit: Julia Alison Photography
20 for '20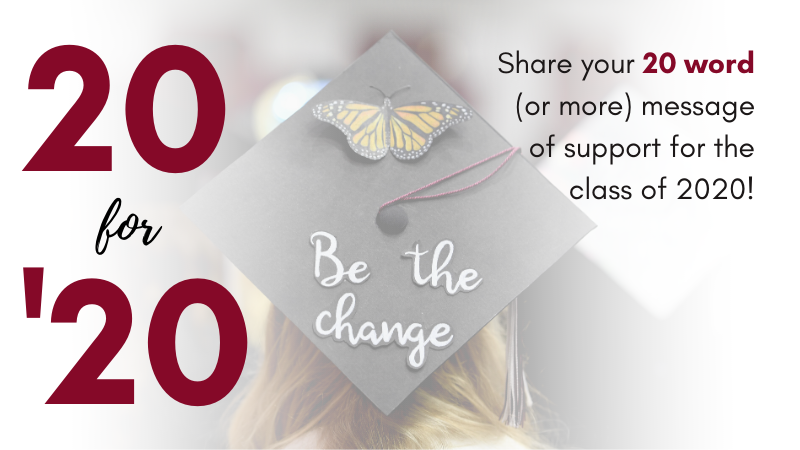 TWU's alumni have written special messages for you, Class of 2020.
TWU Faculty Congratulate Our Grads
May 2020 Virtual Commencement
During the Spring of 2020, Texas Woman's was unable to celebrate commencement in person due to the COVID-19 pandemic. Ceremonies were held virtually and are archived online for graduates and their families to continue to enjoy.