Happy 2016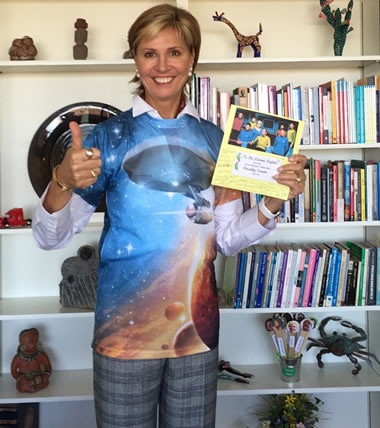 January 4, 2017
Dear TWU Community,
I first want to extend to each of you my warmest wishes for a very rewarding, fulfilling, and healthy 2016.
Thanks to your commitment, creativity, and most of all your hard work, 2015 was not just a good but a truly great year. A capstone for me was to get holiday wishes and a Star Trek T-shirt from our Faculty Senate, with the message that we are on a path to "boldly go where no university has gone before."
Working together, we are on an upward trajectory that will distinctively position Texas Woman's University in the Lone Star State and beyond. Helping us get there are the more than 130 ideas and suggestions from you throughout the year — and we have considered all of them! Beginning in 2016, the 'virtual suggestion box' that is on the Chancellor's website will now also include responses and actions so that suggestions can be tracked.
After a recent presentation I gave to both the Board of Regents and the Faculty Senate, I was encouraged to share my thoughts with the entire university community about how TWU aligns within the current context of higher education. I will do this via video in a couple of weeks so you can watch it at your convenience. During the spring semester, I hope to meet with many of you in small interactive discussion sessions to further explore these ideas.
As we leave 2015 behind, I think it is important to highlight and celebrate some of what we achieved together this past year. Below is an abbreviated run-through of my "top 10" list.
#1 Supporting faculty excellence
Much of TWU's unique culture depends on the outstanding ways our faculty share their expertise, empower and enable students in academic and service activities, engage in research, and prepare all of our students for the challenges they will face in their careers and as global citizens. Across our campuses this past year, TWU faculty experts made many new inroads with community partners that can support the important work of the university for many years to come. To acknowledge faculty excellence, we undertook a number of initiatives designed to both recognize and better support faculty on all three campuses.
We created a new

Center for Faculty Excellence

to provide our faculty with opportunities to interact, learn, and contribute to conversations and strategies regarding effective and innovative pedagogy.
We initiated a pilot project to

raise our faculty's visibility

on TWU's website. These profiles continue to be entered into an online database that is easily accessible by the media. Faculty participating in this initiative also will receive special training for media interviews and participate in "one minute with faculty" video snippets that will link to their website profiles.
We opened a new

Center for Research Design and Analysis

, thus consolidating and enhancing current and past services that support faculty — and student — qualitative and quantitative research.
We distributed more than $400,000 in

TARGET funds

, an initiative supported by the TWU Higher Education Fund allocation provided by the state specifically for equipment and infrastructure. This funding has given our faculty an opportunity to make a case for more resources that directly affect their teaching and/or research efforts.
We funded a concept,

high-tech classroom

for faculty to explore uses of the latest digital technology for teaching.
We developed an

Innovation Fund

out of existing fund balances (i.e., non-recurring funds for one-time use) so that faculty can apply to create new professional and master's degree programs, student retention initiatives, and operational efficiency initiatives.
We admitted students for two new bachelor of science degree programs in informatics and health informatics this past fall. These programs are hallmarks of collaboration, interdisciplinary thinking and inter-professional cooperation, approaches that promise to lead us into a bold new future in education. This spirit of working together has guided TWU since its early days, and it's a spirit on which the faculty at TWU continue to build.
#2 Driving student success
Our focus on helping students succeed expanded significantly last year, with the opening of the new Houston Pioneer Center for Student Excellence, the growth of honors programs, and the expansion of student career services. Students are at the heart of all that we do, so it is with great pride that we celebrate the many new growth opportunities provided for students both inside and outside the classroom.
Since the fall opening of the

Houston Pioneer Center

, we have introduced "Just Write" sessions, "Learning Styles" workshops, the "Language of Scholarship" program, and academic coaching. On average, about 75 students in Houston now access services and use collaborative study spaces every day. The center also began coordinating program development across the university, including: hosting of the Graduate Student Council Professional Development series; serving as the site for all Houston-based Disability Support Services testing, and implementing programs targeting support for specific colleges, majors and academic departments.
We now have more than 750 available student

internships

. More than 1,700 students are using TWU Connect, the internship, jobs, and volunteer database. Five TWU students were invited to attend the Federal Reserve Bank of Dallas' annual "The Fed and You" event. Several of these students are now interviewing for summer 2016 internships.
We reached out to employers to secure high-profile internships for our students and provided support for them to enhance their applications' competitiveness. One example of a newly created

employer partnership

with TWU is GSATi, a highly successful, woman-owned technology firm that moved its headquarters to Denton. GSATi has begun working with TWU to help students achieve success in a field historically dominated by men.
We continue to implement improvements in

academic advising

outlined in the "Meaningful Change through Shared Responsibility" plan. Thanks to the Instructional Enhancement Fee, we are hiring two academic transitions advisors and four coordinators for undergraduate academic advising who will be in place later this spring. These positions will fill a vital gap to help students progress within their degree planning process and augment the professionalization of academic advising at TWU.
Last fall, the Strategic Retention Council developed and implemented a pilot program to provide TWU with an opportunity to intervene and assist students beginning to experience financial, personal or other challenges via a new "

early warning

" process. The project already has resulted in nearly 200 individual student interventions conducted by peer-leaders with oversight by the Pioneer Center for Student Excellence and Undergraduate Studies and Academic Partnerships. Preliminary qualitative data indicate that students, as well as the peer leaders, have benefitted from the intervention. Final results will be available early this spring.
We continue to support the

Student Veterans Association

, which connects veteran and active military students to a wide range of resources, and helps with their transition to college life, advocates for their unique needs, and supports their academic success. We held our first-ever Veterans Week in November, and the TWU Student Veterans Association president attended the U.S. Global Leadership Institute. He had a rare opportunity to discuss with state and national political leaders the role local student veterans can provide in global security attainment.
We created the

SUCCESS

(Supporting Undergraduates Collectively by Creating Educational opportunities to Enhance Skills and Scholastic achievement) mentoring program, which is designed to assist first-generation, first-year college students in making a successful and enjoyable transition to college by creating an educationally supportive network during their first year at TWU. This initiative includes cultivation of peer associations, which are important in creating opportunities for leadership and cultural support and can provide a supportive educational environment aimed at student development and academic success.
The

Multicultural Student Network

was created last year to heighten diversity/cultural awareness and sensitivity within the TWU community. Representatives provided diversity education and training, planned and implemented cultural celebrations, activities and events and liaised between the Office of Diversity, Inclusion, and Outreach, and other multicultural organizations, which gave students the ability to express their ideas, concerns, and suggestions.
The

Center for Student Development

created a new social justice and diversity curriculum for orientation leaders. Also, the center sponsored an alternative breaks program that organized a service trip during the university's spring break.

Helping Hands Service Ambassadors

, along with the Center for Student Development, have worked to encourage a life of civic engagement for students through service activities, education and advocacy, and have worked with community agencies in efforts to bring about positive change.
The

Leadership Institute

has continued to provide opportunities outside the classroom for service and other transcendent experiences that leads to proven success for former students of TWU.
#3 Responding to the unique needs of our Dallas and Houston campuses
Over the past year, faculty and staff have provided a large number of ideas and recommendations to improve the services and working conditions on our Dallas and Houston campuses. We added backup personnel from Denton, reorganized online learning support to better meet faculty needs, and optimized use of personnel. We also began addressing the need to improve marketing and communications capabilities on both campuses by first redesigning an existing position in Dallas and planning an additional person in Houston. Our goal is to provide the same high levels of service on all of our campuses.
We reached agreement on local responsibility for building cleanliness and building appearance and removed the

restrictions on food in rooms

except where health and safety are a concern (e.g., labs, instrument rooms, etc.).
We also

extended hours

in Dallas and Houston from 5 a.m. to midnight, Monday through Friday, for students. In addition, faculty and staff will soon have 24/7 access to the buildings. Before the implementation of extended hours, security staff needed to be hired and trained, which we hope will result in finalized building hours sometime this spring.
We have a

simplified scheduling policy

to make it easier for people to schedule space and promote opportunities for outside partners (e.g., hospital associations, nursing groups and other such academic affiliations) to use TWU space. We look forward to hosting our first TIRR (The Institute for Rehabilitation and Research) Memorial Hermann event in February.
We repurposed underused administrative offices, opened the

Pioneer Center in Houston

and are now working on similar plans for Dallas.
#4 Making TWU a great place to work
We made a number of policy changes this past year designed to improve the quality of all of our workplaces. In addition to changes made in Dallas and Houston, we've also made changes affecting all three campuses. For example, we changed policies to allow staff flex time and identify some special days when employees can bring certain pets into their workspaces (see the University Policy website). With an eye to the future, and a commitment to sustainable and consistent compensation and salary adjustments, we are redesigning our performance evaluation process for both faculty and staff. Additionally, we have moved forward in the development of a more granular, merit-based pay process as part of the overall TWU compensation strategy. These and many other changes are intended to continue to make TWU a great place to work, while providing a clear focus on institutional priorities as we each contribute to the success of the university.
TWU is ranked among the

safest colleges

in the bestcolleges.com list.

University-wide staff committees completed their work on a new proposed

staff performance evaluation system

. The proposals are under consideration with rollout expected this month.
On December 1, TWU issued a one-time lump sum amount of 2% to regular employees achieving certain performance criteria. For 2016, we will develop a compensation system that supports a new performance evaluation program with a focus on

performance pay

.
TWU seeks to achieve a work environment that maximizes productivity and flexibility for supervisors and staff. Therefore, the university last year rolled out the use of

flex work

schedules designed to meet the operational and customer service needs of the university while ensuring that university business goals are met.
TWU recognized that

affinity groups

have the potential to connect faculty and staff with each other and with the greater university community and now offers support for the creation of such groups.
Because TWU is concerned about a healthy work/life balance for our faculty and staff, a policy was created to allow certain

pets on campus

at certain times.
The Texas Government Code authorizes all state universities to offer

recognition leave

for staff employees. Paid time off may now be granted to staff employees as a reward for outstanding performance as documented by a staff employee performance evaluation or for exceptional contributions by staff performing special projects of significant importance.
We have aggressively developed a new TWU

emergency management plan

with an expected completion in late spring. We will host some tabletop exercises in the ensuing months as we begin to implement the plan. We have more people involved, much earlier, so we can make decisions and provide communication, alerts, and updates in a more timely fashion.
The

butterfly garden project

on the Denton campus was initiated and championed by a group of faculty from the departments of History and Government, Chemistry and Biochemistry, and Biology, with Jeff Robb, Cynthia Maguire, Camelia Maier, and Dick Sheardy leading the effort. The garden will have three small dedicated spaces designed to promote environmental awareness and to function as a teaching tool involving native plants and insect pollinators in an aesthetically pleasing setting. Initial external funding for this project is in hand.
TWU now is participating with the

Denton Together Initiative

that focuses on issues of diversity within the City of Denton. This particular initiative is a community effort that recognizes the fundamental equality of all individuals and strives to ensure equal opportunity for everyone.

Starbucks

is taking shape in the Blagg-Huey Library on the Denton campus with an expected opening this month. I look forward to sharing a cup of coffee or tea with you this year!
#5 Strengthening enrollment
With dramatically increased competition for students, sustained enrollment growth continues to be a challenge for TWU. Therefore, we are strengthening pathways to TWU from community colleges across the state, as well as from local area high schools. We are also working on ways to increase the recruitment of graduate students for our advanced programs.
We announced a new partnership with Denton ISD called

Pioneer Promise

, which provides juniors and seniors with automatic admission into TWU if they graduate in the top 30 percent of their class. In addition, the principals of Denton ISD schools will be given a $2,000 per year renewable scholarship to one high school graduate who chooses to attend TWU.
We began exploring opportunities across TWU to

expand recruitment of graduate

students, with our research expected to conclude this month. This research will allow us to develop a strategic and tactical plan to market and recruit more graduate and advanced program students.
A

withdrawal specialist position

was created to improve student retention. This new specialist will, among other things, compile data that will be shared with academic leaders to better understand the reasons for students' withdrawal. The results of the data analysis also will help academic leaders develop new strategies to support student success.
We are implementing the first phase of a new

degree audit and student planning system

that will improve students' degree planning experience and increase advisors ability to help them along the way.
We are helping students find resources to support their education with a new

scholarship management system

that provides one place where they can apply and easily access all TWU scholarships.
#6 Enhancing our lives with technology
TWU continues to focus on providing members of our community with the technology needed to do exceptional teaching, pursue research, and manage operations. We continue to expand wifi, add network capacity, and increase file storage to advance communications capabilities for faculty, staff, and students. We also are working on enhancing our security with dual authentication. We simplified policies and procedures, and we have collaborated with faculty to redesign their classroom space. We began a process to research options for color printing, mobile printing, and additional power outlets for students on all campuses. Technology has empowered TWU to compete in a world that demands the highest levels of excellence.
We implemented a new

electronic course catalog

and course inventory systems.
We recently finished the

refreshing of technology

in 19 classrooms, 2 computer labs, 11 video conference rooms, and we are currently working on 44 other rooms.
We have laid the groundwork so we can begin

piloting a new learning management system

called Canvas in the spring.
We added 14

digital signage

locations to improve on-site communications and expand our ability to share news and recognition of outstanding student, faculty, staff, and alumni achievements.
#7 Maximizing our limited resources and infrastructure
We continue to research, streamline, and revise our ongoing activities and processes to ensure that we are efficiently and effectively operating our campuses to provide our students, faculty and staff with the greatest benefits and opportunities possible.
 There are many examples of how we have been able to free up funds and operate more effectively. We also have a number of construction projects in the works. We have had an amazing year discovering new ways to do more with the resources we already have.
We conducted an

insurance review,

resulting in an annual savings of more than $400,000.
We started a review of our

investment management

policy, which will result in savings and increased earnings potential.
Last year's determination of additional

energy and conservation retrofits

are expected to yield additional ongoing energy savings.
We also have reviewed our

funding source rules

to make sure we are using funding sources most appropriately — for example, HEF (the Higher Education Fund) vs. designated tuition.
A calendar for the planning and development of TWU's FY 2017 budget has been drafted for board approval in May. The recently established

Budget Link Team

is working to create a formal budget process to ensure information is available to participants across campus.

Procurement Services has initiated bi-monthly presentations on a variety of procurement-related processes and requirements. These

procurement forums

are educational, highly interactive, and have fostered positive working relationships. The interest, attendance, and feedback on these forums has exceeded our expectations!
We will be unveiling new and revised processes for

contract administration

to comply with new legal requirements that were passed during the most recent legislative session.

We have begun initial work on a

temporary parking lot

in Denton with anticipated completion by the end of the spring semester.
Contract negotiations with an architect/engineering firm are progressing with planning and design for a

west campus parking garage

in Denton to begin this year.
Solicitations for an architect/engineering firm have been initiated so the

new student union project

can move into the planning and design phase.
We are in the first phase of the

new science and technology building project,

with the legislature funding designated at $39 million.
After gathering and analyzing data on the state of the

TWU Golf Course

, we are now evaluating potential uses of the land as part of an overall campus master plan.
#8 Building our reputation
During the last half of the year, we shifted our focus to improving our website as our No. 1 communications channel. We captured more than 100 stories and photos depicting examples of TWU's academic excellence, faculty, student and alumni leadership and societal impact. (And, there's already a backlog of more than 75 story ideas for the website!) These stories have raised the university's profile across the state and beyond. Our media outreach strategy has shifted from a Denton-centric focus to statewide, regional and national placements. As a result, TWU media placements and geographic exposure increased significantly.
Examples of our

media coverage

include: a front page story (for the first time in more than a decade) in the Dallas Morning News; a digital and print story in the Texas Medical Center Pulse Magazine; and national coverage of our Little Chapel-in-the-Woods and Texas First Ladies Historic Costume Collection in University Business magazine. In a later issue of the University Business magazine, TWU was given prominent recognition in an article touting the newly recognized value of a more holistic education in measures of student success. Also, TWU was ranked No. 45 in the nation by The Economist in its first-ever ranking of universities based on what they do to add value to their students' earning potential.
The announcement of the new

Woodcock Institute

resulted in almost 100 total media hits with a potential audience of 115.5 million; global placement in the U.S., U.K., Switzerland, Canada and India; and placements in Texas and 24 other states. Some Woodcock media placement highlights include: Yahoo News, Reuters, Bloomberg, @AASCU newsletter, ADVANCE for Physical Therapy & Rehab Medicine magazine and the National Association of School Psychologists Newsletter.
The university has continued to grow its

social media presence

and now oversees a growing dashboard of social media channels.
#9 Expanding investment in TWU
TWU received its largest gift in its history mid-year for the Woodcock Institute, as well as a funding opportunity to help Texas achieve Governor Greg Abbott's goal of making the Lone Star State No. 1 in the U.S. for women-owned businesses.
Advancement set

aggressive fundraising goals

for the year, endeavoring to raise $7.5 million in new commitments, which would be more than a 100 percent increase from previous years. In addition, approximately $15 million in cash will be added to endowments and expendable program accounts before the fiscal year closes.
We've made significant inroads in meeting with potential donors and partners to pursue new avenues for bringing

additional resources

.
As committed by the State of Texas, on September 1, TWU received the first portion of special funding from the state to establish a special new center that Gov. Abbott hopes will help make the Lone Star State No. 1 in the U.S. for

women in business

. We've gathered program characteristics on more than 70 university centers for entrepreneurship across our nation, discovering that of these university centers, only three specialize in women entrepreneurial efforts. We have visited two of these centers, establishing friendships with their leadership teams and, most importantly, identifying their programming success for consideration in our planning. The vision is for TWU to become recognized at the state, national and international level as a practitioner center and thought leader for women who want the independence of business ownership.
#10 Building a strategic plan for long-term goals
Last but certainly not least is our strategic plan. The strategic planning process was designed to be iterative: building a framework; developing content around that framework; updating the framework as new ideas emerge in content development; listening to the TWU community's feedback; and continually cycling through these steps until a viable product emerges. The framework is coming together well, and teams — comprised of about 65 from TWU regents, faculty, staff, and students — are developing inspiring content.
Through the generosity of Sue Bancroft, chair emerita of our Board of Regents, we contracted with a

consultant

to guide and facilitate the process of building a university-level strategic plan.
Through retreats and listening sessions that included faculty, staff, students, and external partners, we

collected and analyzed data

on TWU's history and aspirations from a multitude of internal and external perspectives.
Amy O'Keefe joined David Rylander as the

co-chair

of the strategic plan design team in November.
A draft of the

plan is on track

to be finished by early spring. The plan will be further vetted through more listening sessions with the TWU community, including the Board of Regents.
If you made it through this long list of selected highlights of our accomplishments this past year, you deserve a congratulations! And really, each of the nearly 3,000 faculty and staff who are behind the work highlighted here deserve congratulations. Thank you all for making TWU an institution of distinction this past year. Together, we will achieve even greater heights in the year ahead.
Warmest wishes,
Carine M. Feyten, Ph.D.
Page last updated 11:34 AM, August 21, 2018