WomenRISE
WomenRISE – Reflect, Interact, Shine, Enterprise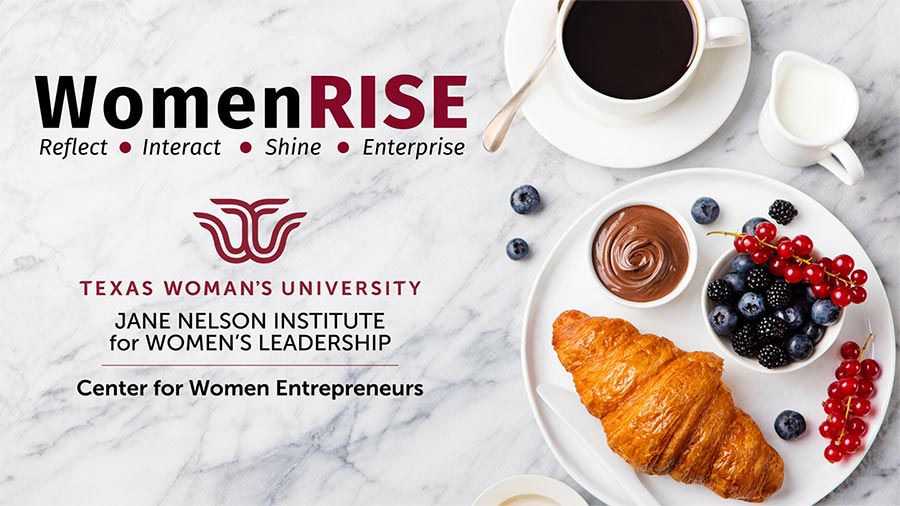 Welcome women entrepreneurs to a Center for Women Entrepreneurs monthly small business training and networking series.
You will have the opportunity to meet and network with other women business owners and benefit from professional training. Bring your business cards to enter our monthly raffle and exchange with other business owners.
Time: 8 – 9 a.m.
Date: Second Tuesday of each month
Location: In person: Texas Woman's University Denton campus, Old Main Building Room 257 (2nd floor)
Virtual: through Zoom
In-person attendance
In-person events will be held at Texas Woman's University, Denton Campus, Old Main Building, 2nd Floor, Rm 257.
Breakfast will be served at 7:30 AM. The official program starts at 8:00 AM. Come and network with other female entrepreneurs. Make sure you bring your business cards.
*It is a bit of a walk between the two parking areas and Old Main Building. You may want to consider wearing comfortable shoes to walk in and bring your dress shoes for the event.
*If you have special needs, please email cwe@twu.edu to make special arrangements.
Parking Information
Download ParkMobile @https://parkmobile.io/
Put in your information to include your license plate number.
For the event, park in either the Visitor Parking Lot or on the 4th level of the parking garage.
Parking is FREE! The parking code will be included in your event confirmation.
There will be directional signs to assist you in locating the event.
How to get from the parking garage to Old Main Building
How to get from the visitor's parking lot to Old Main Building
Online attendance
If you are attending online you will receive the Zoom link to join. We will have an online host that will help facilitate the event. We will continue to have pre/post networking opportunities.
Networking before the event: 7:35 – 7:55 a.m.
Networking after the event: 9:05 – 9:25 a.m.
Official program: 8:00 – 9:00 a.m.
All registered attendees, whether in person or online will receive the replay link after the event.
February
Negotiating: Cleaning Up a Dirty Game
Tuesday, February 14, 2022
In-Person & virtual event
This month, join us with Johanna Thomas from Strategic Security Solutions to talk about Negotiating: Cleaning up a dirty game.
The thought of negotiating fills most people with immediate dread, but your mental doomsday doesn't have to be that bleak. Building your skills and understanding your limits can change the landscape. You don't have to play dirty to get to the finish line.
Enjoying a collaborative (and fun) discussion! We will also discuss understanding your individual strengths, your negotiating style, and a path to defining your limits.
Speaker
Johanna Thomas, CPA, CISA is the founder and CEO of Strategic Security Solutions (S3), a professional services firm specializing in CyberSecurity.
Johanna is a recognized expert and active influencer in the Cyber community. She serves on the Advisory Board for the University of Tennessee, Knoxville Accounting/InfoSys Department, several technology vendor advisory boards, Ambassador/Mentor for SPJ Capital, and a mentor for multiple Entrepreneur and Women in Leadership Organizations.
Johanna is the mother of 3 young children and earned both BS and MS degrees in Accounting from UTK.
Page last updated 2:29 PM, January 10, 2023