WomenRISE
WomenRISE – Reflect, Interact, Shine, Enterprise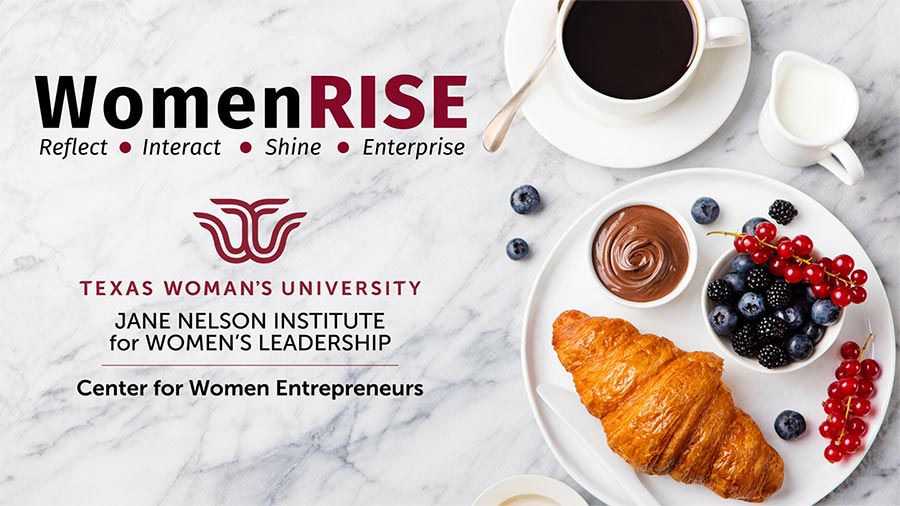 Welcome women entrepreneurs to a Center for Women Entrepreneurs monthly small business training and networking series.
You will have the opportunity to meet and network with other women business owners and benefit from professional training. Bring your business cards to enter our monthly raffle and exchange with other business owners.
Time: 8 – 9 a.m.
Date: Second Tuesday of each month
Location: In person: Texas Woman's University Denton campus, Old Main Building Room 257 (2nd floor)
Virtual: through Zoom
In-person attendance
In-person events will be held at Texas Woman's University, Denton Campus, Old Main Building, 2nd Floor, Rm 257.
Breakfast will be served at 7:30 AM. The official program starts at 8:00 AM. Come and network with other female entrepreneurs. Make sure you bring your business cards.
*It is a bit of a walk between the two parking areas and Old Main Building. You may want to consider wearing comfortable shoes to walk in and bring your dress shoes for the event.
*If you have special needs, please email cwe@twu.edu to make special arrangements.
Parking Information
Download ParkMobile @https://parkmobile.io/
Put in your information to include your license plate number.
For the event, park in either the Visitor Parking Lot or on the 4th level of the parking garage.
Parking is FREE! The parking code will be included in your event confirmation.
There will be directional signs to assist you in locating the event.
How to get from the parking garage to Old Main Building
How to get from the visitor's parking lot to Old Main Building
Online attendance
If you are attending online you will receive the Zoom link to join. We will have an online host that will help facilitate the event. We will continue to have pre/post networking opportunities.
Networking before the event: 7:35 – 7:55 a.m.
Networking after the event: 9:05 – 9:25 a.m.
Official program: 8:00 – 9:00 a.m.
All registered attendees, whether in person or online will receive the replay link after the event.
June
The Power of SEO: How to Improve a Website's Search Rankings
Tuesday, June 13, 2023
In-Person & virtual event
You asked, and we've answered. Our June WomenRISE is all about The Power of SEO: How to Improve a Website's Search Rankings with Lissa Duty of Rocks Digital.
In order to get a business found in search results, you must make sure the business is easily findable by search engines. Search engine optimization (SEO) is what makes this possible.
In this presentation, Lissa Duty of Rocks Digital will walk you through how to audit your website and demonstrate how by implementing some key strategies, you can improve a website's placement in search results almost immediately.
She'll discuss page titles, meta descriptions, h1s, h2s, call-to-actions and why taking users on a journey through the business' website is imperative. You'll get a look at Screaming Frog, SEMRush and Google Search Console.
You'll walk away with a better understanding of how leveraging these resources can help your website to place higher in search results.
Speaker
Lissa Duty, Rocks Digital Marketing
Lissa Duty is a branding and digital marketing strategist. The author of two social media books, she has written countless articles and guides, some of which are published under the names of others.
Her digital marketing agency, Rocks Digital Marketing, helps businesses to rank in the top of search results. Web development, local SEO and Google My Business optimizations are only a few of the services the agency performs each day.
In addition, Lissa is founder of one of the largest digital marketing conferences in Texas, the Rocks Digital Marketing Conference.
From advising to implementing, Lissa is the digital marketing pro every business wants on their speed dial.
July
Build Your Personal Brand, Grow Your Capacity
Tuesday, July 11, 2023
In-Person & virtual event
We are excited to have one of our community partners speak at our July WomenRISE. Join Tarsha Hearns, Senior Director, The DEC Network, and learn how to Build Your Personal Brand, Grow Your Capacity.
Personal branding is crucial for entrepreneurs who are looking to establish themselves in the market, build a reputation, and attract customers. A strong personal brand can differentiate you from your competitors, enhance your credibility, and help you connect with your target audience. This presentation will provide you with valuable insights on how to create and maintain an effective personal brand that can help you achieve your business goals.
Speaker
Tarsha Hearns, The DEC Network
Tarsha Hearns is the Sr. Director of Ecosystems at the Dallas Entrepreneur Center, a 501c3 nonprofit that drives innovation and economic impact by helping entrepreneurs start, build and grow their businesses. As senior director, Tarsha leads a team that provides business support services to entrepreneurs seeking to start or grow their businesses. In addition, she manages the Community Navigator Dallas program, a federally funded program by the Small Business Administration, which connects entrepreneurs to business support and financial resources in their community.
Tarsha is an engaged member of the small business community and has received numerous awards for her entrepreneurial endeavors, leadership, and dedication to serving women and minority founders. Professionally known as The Marketing Lady, Tarsha has 20+ years as an entrepreneur and lists winning a contract with the National Football League for Super Bowl XLV as her biggest career-defining moment. Yet, her passion is to inspire people to live their dreams through entrepreneurship.
Page last updated 1:07 PM, May 10, 2023