About the Project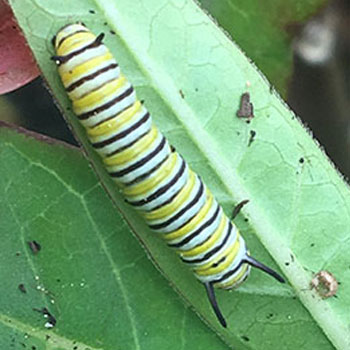 TWU has approved a native plant butterfly garden project for the Denton campus that will attract and sustain monarchs and many other butterflies, bees, and birds. The garden project will proceed in two phases: Phase I on the grounds of the Ann Stuart Science Complex, and Phase II, west of the Texas Pond, which will be a large "showcase garden." The project will give our students many opportunities to "learn by doing" and to serve the University by creating a beautiful landmark on campus. The butterfly garden is being supported financially by a generous grant from the U.S. Environmental Protection Agency (grant number: 83677401), funding from the university, and private donations.
See the Artist Renderings page for 3D drawings and visualization.
Project News
4/15/19
Texas Woman's University biology professor and herbarium director, Camelia Maier, Ph.D., received the National Society Daughters of the American Revolution (NSDAR) Conservation Medal at the 120th Annual State Conference of the Texas Society Daughters of the American Revolution. In addition to the medal, Maier received a certificate from Texas State Regent Susan Tillman at the awards dinner in Houston in March.
10/15/18
The TWU Dr. Bettye Myers Butterfly Garden (Phase 1, located on the south end of the ASSC) has officially been designated Monarch Watch waystation number 22127. Monarch Waystations provide milkweeds, nectar plants, and shelter for monarchs throughout their annual cycle of reproduction and migration. Creating and maintaining a Monarch Waystation contributes to monarch conservation and helps to assure the continuation of the monarch migration in North America.
5/24/18
Today, the U.S. Environmental Protection Agency (EPA) announced more than $557,000 in funding for eight student teams as part of Phase II of the People, Prosperity and the Planet (P3) grant program. This includes $74,932 to a team at Texas Woman's University in Denton for their work to develop sustainable pollinator gardens for habitat, water conservation, and education.
"These students are applying what they have learned in the classroom to create innovative solutions to environmental challenges," said EPA Administrator Scott Pruitt. "These awards support the next generation of scientists and engineers in their commitment to environmental protection, while helping states, tribes, and local communities find solutions to their environmental issues."
8/19/16
The "butterfly effect" was in full bloom Thursday (Aug. 18), as the Texas Woman's University campus, Board of Regents, Denton city and county officials and other community members gathered to dedicate TWU's new butterfly garden in honor of Professor Emerita Bettye Myers.
Page last updated 12:01 PM, February 24, 2020