TWU Students Tour Peterbilt Facility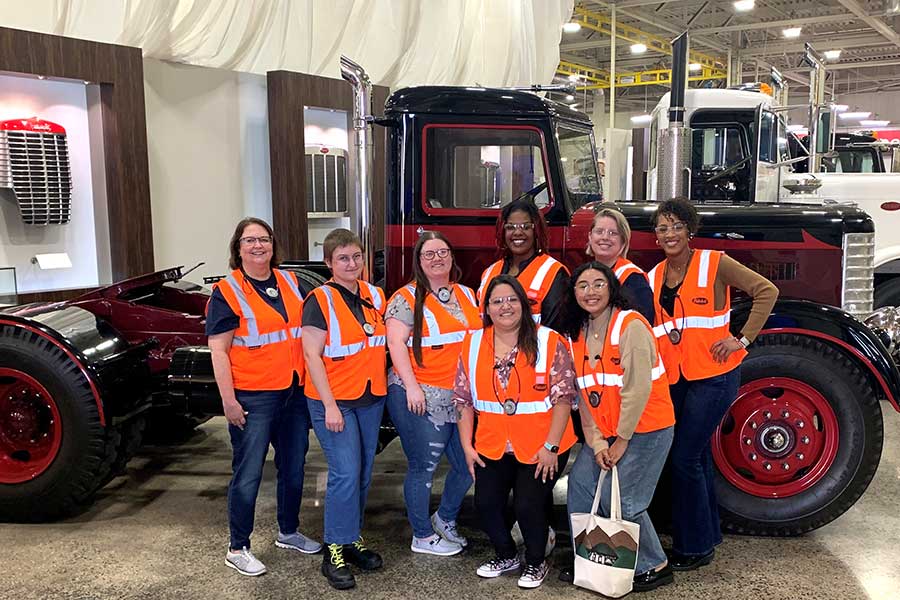 Nov. 9, 2022 — DENTON — Members of the Texas Woman's student chapter of the Society for Human Resource Management visited the Peterbilt facility and were able to get a behind-the-scenes look at the human resources operation in Denton this fall semester.
Seven TWU students and faculty sponsor Sheila Hyde, PhD, toured the production lines and met with the HR team at Peterbilt, which manufactures highway, vocational and medium duty trucks.
"It is important for our members to experience glimpses of human resources in real-life action," Hyde said. "Even students who may not intend to pursue HR as a field can benefit from getting an understanding of the HR department and making connections valuable to future job searches and career-building."
Hyde and co-faculty sponsor Derek Crews EdD, try to schedule at least one site visit in the Dallas-Fort Worth area each semester for SHRM members. Past site visits have included Sally Beauty, Toyota and Vistra Energy. Monthly meetings include guest speakers in the HR field and discussions on job preparation topics.
SHRM is open to all TWU majors and students can visit the COB's organizations webpage for more information.
Page last updated 11:02 AM, November 14, 2022