TWU student uses new experiences to challenge himself and launch career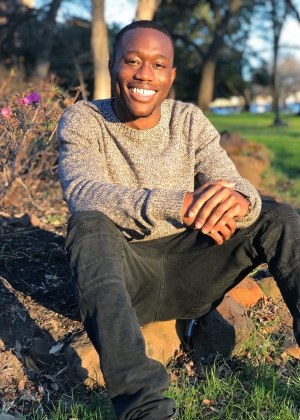 A Q&A with College of Business marketing student Joseph Mallory
Q: Why did you choose TWU, and what has your experience been like?
A: TWU has an excellent academic reputation, offered me a great scholarship and is located in my home city of Denton, Texas, so I knew it would be a great place to further my education. Literally, the first day of university classes told me that high school playtime was over. TWU has enabled me to focus on my studies and continue with my personal growth and development.
Q: Why did you decide to major in marketing?
A: I decided to become a marketing major because I enjoy helping people achieve their visions. I know that dreaming big and reaching for your goals at times is a daunting task. I especially enjoy helping small businesses and entrepreneurs by solving or assisting in meeting their marketing needs. It is neat to see where my efforts help to contribute to their success. The reward of seeing their reactions to a job well done is satisfying to me.
Q: How did TWU assist you in starting a career as a freelance photographer?
A: Over the summer, I was out of a job due to employment changes because of the virus. I was inspired to start a photography business with the vision of establishing another stream of income long term. I intently gleamed insight from my course textbooks on effective ways to market myself, my brand and my services. I managed to contract a few clients for paid services, and over 2020, I conducted my first wedding and graduation photoshoots. I also conducted multiple creative shoots with friends as practice to sharpen my skills and learn my shooting style.
One recent and exciting project is that this past November, I had the opportunity to travel with my internship, with a travel agency based in the DFW area, to Cancun, Mexico, to provide photography and videography services for an event hosted there. I traveled with the company for four days and captured a significant amount of visual content of luxury resorts and interactions of wedding planners with the vendors. It was an invaluable experience.
Q: You also work for the College of Business as the student assistant for social media and digital content. What has that experience been like?
A: My experience working with the COB has been an insightful and beneficial one. I am time and time again faced with tasks that I may not have had experience with, but I have a "Can Do" attitude. I am tasked with assisting in social media management and responsible for our content creation across our multiple social media platforms and our YouTube channel. I design and schedule posts, engage with our audience, work to collaborate with other offices at the university and ultimately ensure the vision of the COB is being effectively enacted. One recent project I am most proud of is the video that I made for our YouTube channel, WeAreTWU. This was my first opportunity having full creative control while creating a video. I formulated the topic and plan and initiated filming, directing and editing the video.
Q: How did your experience working for the COB contribute to your career as well?
A: Creating a video for our YouTube page definitely allowed me to exercise my skills on the technical side of video creation. Though my main focus with my business is photography, I learned a few personal lessons from the project—a huge one being to "bet on yourself" and give yourself a chance to prove your value to others and at times even yourself. You will never get any new experience if you say your own no and tell yourself you are underqualified. Just because you are inexperienced does not mean that you are unqualified.
Q: What is your favorite TWU memory thus far?
A: Perusing different campus events at the university with my cousin while meeting people and most importantly, looking for food! Over my experience at TWU, any event flyer that references food or snacks caught my attention!
Q: Did a TWU professor inspire you? Who was that and how was that person inspirational?
A: I always enjoyed being in class with Assistant Professor Gilbert Werema, PhD. Beyond just being an amiable funny man, he seemed to show genuine care for me. I met with him several times outside of class to discuss and receive tips and direction on my career path. I related well to having a professor that looked like me.
Q: What advice do you have for prospective college students?
A: Focus on your education. Get uncomfortable. Push the envelope of things you know you do and try new things as well. Find community with other bright and like-minded individuals. Lastly, college life can be very busy and time consuming. Despite the busyness, make it a point to plan out time for self-care and personal development. College is a great time to learn about ourselves more, make mistakes and grow from them.
Q: What do you enjoy doing in your free time?
A: When I have time outside of schoolwork or my job, I use it to do creative things such as photography, making crafts with my hands and painting. I also try to save time to read books to empower my mind and enjoy spending time with the people who inspire me most—my friends and family.
Media Contact
Ray Willhoft
Director of Communications, Jane Nelson Institute for Women's Leadership
940-898-4584
rwillhoft@twu.edu
Page last updated 4:59 PM, September 26, 2022