TWU marketing student seeks to expand her worldview by studying abroad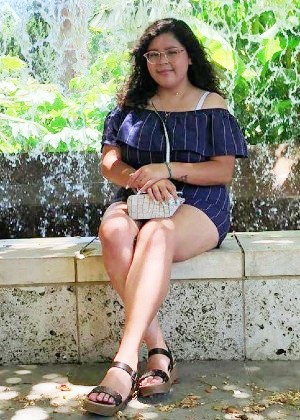 Texas Woman's marketing student Jessica Arroyo will be broadening her horizons when she embarks on a semester-long study abroad experience in England as a Fund for Education Abroad (FEA) Scholar. Only the second student from TWU to be selected as a recipient of this scholarship, she is grateful for the opportunity to learn and grow, as well as the support she has received from TWU.
Arroyo, who is from Plano, Texas, but also spent much of her childhood in Mexico, was attracted to TWU because of its affordable tuition and complete college experience. She decided to major in marketing due to its variety of career options.
"I chose marketing because I know there are many options for me to branch out to, whether it be fashion marketing, social media management or digital marketing," she said. "Once I graduate, I want to be in a job that allows me to constantly learn new things and be caught up with the media and its latest trends."
That desire to learn new things, combined with the experiences of her family members, inspired Arroyo to pursue studying abroad.
"My older sister and my cousin studied abroad, and when they came back, they both found a new sense of confidence in what they wanted and the independence to make their own decisions," she said. "I hope I can also gain some personal growth and network with people that can help me with my career in the future."
However, Arroyo did not think she could afford to study abroad until she began working with TWU International Affairs.
"I received a lot of help from the office staff who walked me through the entre application process and helped me look into different scholarships and deadlines," she said. "They encouraged me to apply for FEA Scholarship, helped me review my essay and even gave me advice in improving my portfolio for future employers."
The FEA Scholarship Arroyo received provides funding and ongoing support to students who are underrepresented among the U.S. study abroad population. Once she was selected, Arroyo decided to study in London because it is one of the most diverse cities in the world, and she wants to be able to meet different types of people. She also hopes the experience will provide her with valuable career insight and a much-needed new outlook.
"Aside from career opportunities, I just want a change of pace," she said. "I feel like right now my only focus is school and work, and I want to find what else I like and just enjoy the new scenery. Like my sister and my cousin, I want to broaden my perspective and just enjoy what I'm doing rather than focusing on the pressure of what I should be."
Through the AIFS Global Education Center - London, Arroyo will enroll in a full semester of coursework for either fall 2021 or spring 2022 (depending on the COVID pandemic) and participate in several cultural excursions, including day trips to Stonehenge, Salisbury and Cambridge. Additionally, she will have the opportunity to engage in cultural learning activities in London organized by AIFS.
FEA Scholars also are required to empower other underrepresented students to study abroad through producing blog and video content chronicling their experiences abroad, which fits perfectly with Arroyo's career interests.
"I would encourage anyone who is interested in studying abroad to reach out to TWU International Affairs and see what opportunities are available," said Arroyo. "You never know what might be possible."
"TWU supports global learning by providing opportunities for students to live, learn and lead abroad," said Carolyn Becker, director of Education Abroad. "These transformational experiences help students connect what they are learning within their degree to a broader global context."
Once she crosses the ocean next year, Arroyo plans to do just that.
Media Contact
Ray Willhoft
Director of Communications, Jane Nelson Institute for Women's Leadership
940-898-4584
rwillhoft@twu.edu
Page last updated 10:54 AM, November 23, 2020