TWU business graduate overcomes obstacles to achieve educational dreams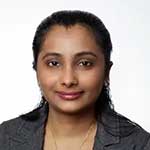 November 15, 2021 – DENTON – Students come to Texas Woman's for a variety of reasons, but the main one is the opportunity to achieve their educational and professional dreams in a caring and supportive environment, as December 2021 dual MBA and MHA graduate Nimishakumari Ahir de Ahir has successfully done.
Originally born in Gujarat, India, Ahir moved to Panama City, Panama, with her family when she was 12. She earned her bachelor's degree in nursing and worked as a registered nurse for more than a year before realizing that she could do so much more.
"I decided to move to the United States to pursue my degrees in business and healthcare administration because I wanted to learn how to operate a business and efficiently address a variety of issues such as supply chain, burnout and how to appropriately manage resources," she said.
However, Ahir had to combat two obstacles—her lack of language proficiency in English and her family's cultural view of women not pursing graduate-level education or being suited for business careers. Tackling the first problem was a precursor to overcoming the second.
Ahir completed an intensive English language program at the University of North Texas, which gave her the confidence to continue her education.
"After a lot of hard work and practicing my language skills with native speakers, I learned basic and educational English, but I am still learning English grammar since it is not easy to understand," she said.
She next found TWU, which proved to be the perfect fit for her educational goals.
"The TWU mission of educating women to empower the world attracted me to pursue my MBA and my MHA degrees at the university," Ahir said. "I believed that TWU could understand me and help me achieve my dream to get a higher level of education."
While attending Texas Woman's, Ahir worked as a graduate assistant for several departments, including Student Union & Conference Services, Student Life Dallas and Disability Services for Students. Those experiences, combined with her classroom education, prepared Ahir for life after graduation.
"I feel like TWU has prepared me to be innovative and see things from different angles, and I also enjoyed taking classes with diverse groups of students and learning from broad and different perspectives," she said. "I feel prepared to make changes in the administrative process to make the flow of work better and more enjoyable."
Ahir's post-graduation plans include working as a project coordinator, then project manager. In five years, she plans to earn a PhD.
But no matter what the future holds, Ahir has already achieved what she set out to do and is now a role model for other young women.
"I am the first person in my family to complete a master's degree, but when I came to study, no one in my family thought that I would finish due to my lack of language proficiency in English. But I did. Now, women in my community can see the importance of perseverance, hard work and determination."
Indeed, those qualities will serve Ahir well as she continues to blaze new paths to success and achieve new dreams.
Media Contact
Ray Willhoft
Director of Communications, Jane Nelson Institute for Women's Leadership
940-898-4584
rwillhoft@twu.edu
Page last updated 1:18 PM, November 15, 2021