Fulfilling a dream of impacting others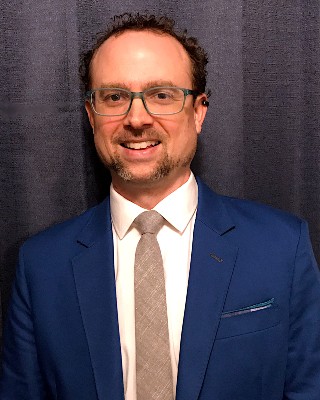 TWU business alumnus uses lessons learned for two successful careers
Texas Woman's College of Business alumnus Jonathon Ray Oden (MBA '17) believes in enriching the lives of others through his work as both a music therapist and an investment advisor. Though juggling two professions is not always easy, for him, the lessons he learned at TWU have been essential for his success.
Originally from Denison, Texas, Oden ventured to Denton for the first time in 2000 to study music therapy at TWU. He developed a passion for music as a teenager and thought music therapy would be the best use for his talent.
"I started playing guitar at age 13, and I was eventually attracted to the idea of music therapy as a service that could impact people's lives in ways music performance or music education may not always be able to," he said.
After a break from his studies, Oden eventually went on to earn his bachelor of music therapy degree from Sam Houston State University and began his career as a board-certified music therapist.
"Having the opportunity to see the people I work with benefit from this service is incredibly meaningful and fulfilling," he said. "I also really appreciate the opportunity to do a lot of creative thinking."
Though he loved his career, around seven years ago, Oden became highly interested in markets and investing and decided to start out on a new venture, which led him back to TWU.
"The TWU MBA program was a great opportunity for me to expand my knowledge about finance, economics and business in general," he said. "Since I did much of my undergraduate coursework at TWU, I knew it was a great school with an amazing campus. So, when I became interested in business education, the TWU MBA program was a good fit for me because of its accessibility as far as location and times of classes."
Oden also appreciated that in addition to valuable coursework from great teachers, he had the opportunity to meet, work with and learn from many individuals from a wide range of diverse backgrounds. That opportunity inspired him to start Aesop Advisor and work as an independent registered investment advisor.
"Although traditional financial services work great for a lot of people, around half of people do not participate in retirement plans," he said. "I hope my business can be a small part of changing that."
Though music therapy and investment services have different elements, Oden discovered that being able to approach each from a client-centered perspective, and remaining focused on relationships first and foremost, has helped him navigate his approach to entering the field of finance.
"One of my main takeaways from the TWU MBA program was that at their core, all businesses are about relationships," he said. "My experiences at TWU were extremely valuable to me as someone offering investment management services, where building trusting relationships is essential. Also, TWU helped me identify, improve and recognize the value in those types of skills that I had been developing as a music therapist since 2005, which has definitely helped me be a better music therapy provider."
In addition to his work, Oden authored two publications: "A Descriptive Analysis of Music Therapy Employment from 2013 to 2019" (2020, Music Therapy Perspectives) and "The Use of Guitar in Music Therapy" (2012, Barcelona Publishers). He also produces original music as Jonny Ray, and his albums include "Six String Theory" (2019) and "7 Tablets of Creation" (2015).
For the future, Oden hopes to continue providing music therapy services for his clients as he continues to grow and develop Aesop Advisor. He also is excited about the possibility of furthering his finance education and contributions to his two professional fields.
"My experiences with TWU were highly useful in my writing," he said. "I look forward to possibly contributing further to the music therapy literature, as well as writing on personal finance."
With his TWU lessons in hand, no doubt Oden will continue to play all the right notes.
Media Contact
Ray Willhoft
Director of Communications, Jane Nelson Institute for Women's Leadership
940-898-4584
rwillhoft@twu.edu
Page last updated 8:34 AM, January 15, 2021