Dean's Student Advisory Board Hosts Dialogue with the Dean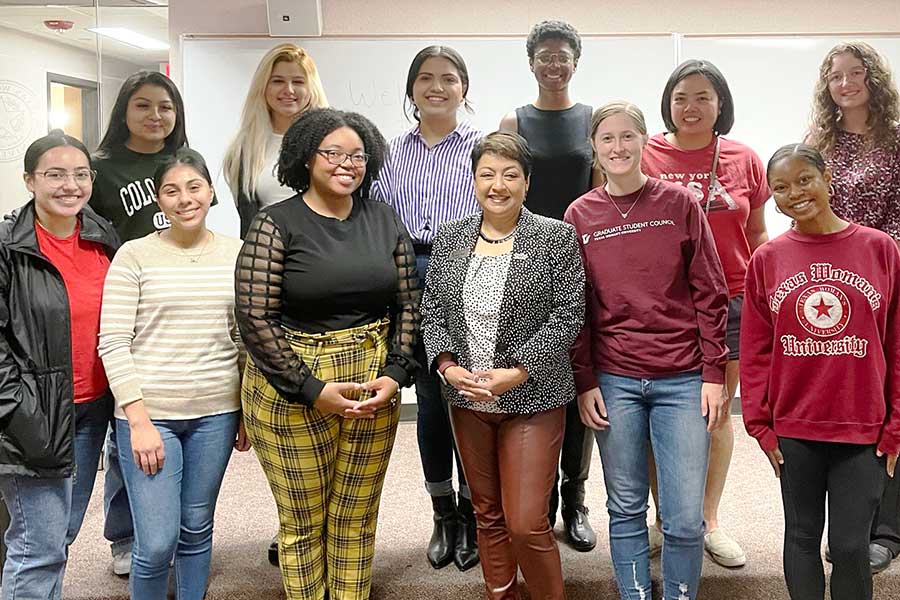 Nov. 8, 2022 — DENTON — College of Business students had an opportunity on Monday, Nov. 7 to interact and ask questions with COB Dean Rama Yelkur, PhD, in an informal setting. The Dean's Student Advisory Board hosted the inaugural "Dialogue with the Dean" at the Administration Conference Tower.
Students were able to ask questions and interact with COB staff and students as well as enjoy lunch.
"I wanted to have us get to know you a little better," Yelkur said to the students. "We wanted to engage with you."
DSAB president Lauryn Johnson introduced the dean and encouraged students to join the board, which liaisons with the COB student body.
"You can talk to your professors and email them but there is nothing like getting that one-on-one connection with Dr. Yelkur and the staff," Johnson said. 'They are your mentors."
One of the concerns brought up by students was having more opportunities to meet with other COB students.
Marketing and management chair David Rylander, PhD, spoke about the various clubs students could join like the American Marketing Association.
The DSAB is also planning on holding other events through the school year, including dress for success and peer on peer mentoring. Students can hear about upcoming events through their classes, COB social media and collaborative spaces.
Page last updated 2:45 PM, November 8, 2022