MHA - Business Analytics
In as little as 24 months, you can have your MHA with Business Analytics Emphasis and be ready for the next step in your career.
Learn the intricacies of technology interfaces and security within health care organizations.
Program Features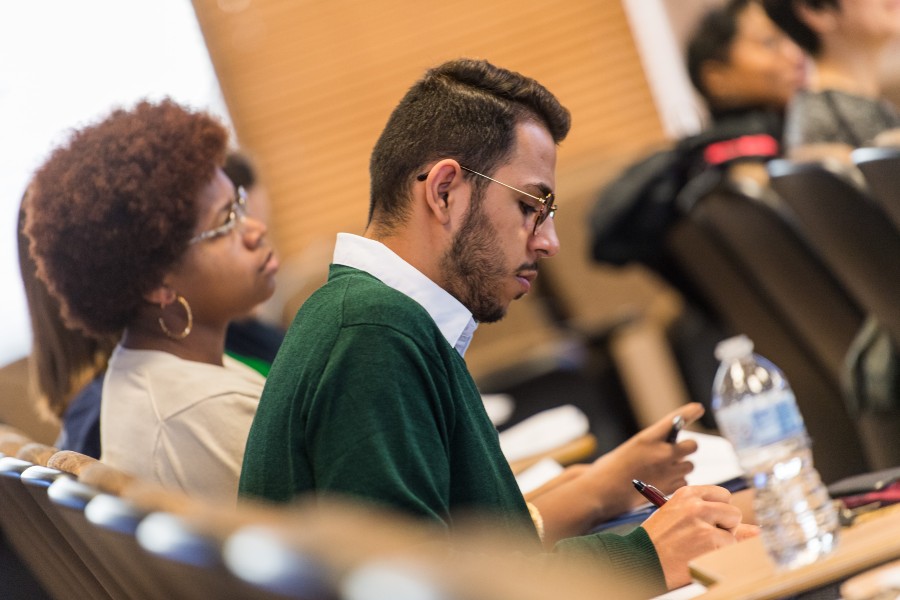 Flexibility of hybrid and face-to-face class options
Classes take place on TWU's Dallas and Houston campuses
Small classes with accessible, knowledgeable and supportive faculty
Courses may be taken in any order with the exception of a few courses with prerequisites
Degree completion in little as two years or 51 credit hours*
Extension of the standard MHA degree with only 12 additional credit hours
Can be declared at any time through your advisor*
*Individual requirements may vary.
Why TWU?
Professional connections and certifications
After completing this degree, you will immediately qualify to sit for the Health Information and Management Systems Society (HIMSS) first level of medical informatics certification as a CAHIMS (certified associate). You can count this degree emphasis toward the experience requirements for the CPHIMS (certified professional): MHA + 3 years experience vs. bachelor's + 5 years experience.
Careers & Salaries*
With this degree, you have multiple career opportunities including:
*Median salaries, according to the U.S. Bureau of Labor Statistics and Payscale.com
Program Requirements
45 semester credit hours in required courses including six elective hours (the six

required elective hours may be used for the emphasis courses)

A professional portfolio completed in your final semester and presented to faculty
12 credit hours for the Business Analytics emphasis. Six of the required electives credits can be substituted for 6 of the business analytics required credit hours.
Admissions Requirements
Admission to the TWU Graduate School
When you apply to the TWU Graduate School, we will evaluate your academic achievement and preparation, as well as your standardized test scores if required. All students must meet the University requirements as outlined in the Admissions to the TWU Graduate School. In addition, most graduate programs have additional admission requirements that must be completed. These requirements can be found on each graduate program website. After acceptance, you will need to begin your program within one year, unless a deferral has been approved by the program.
Check out the links below for specific admissions information:
*Admission to the Health Care Administration Program
How to Apply
No GMAT/GRE required if GPA is 3.2 or higher in final 60 credit hours from accredited university. GMAT/GRE optional for GPAs between 3.0-3.19 with provisional admission.

This requirement is temporarily suspended in response to the COVID-19 pandemic.

Submit TOEFL Scores (for international students and permanent residents) if required.

Submit a resume to hca@twu.edu.
The Health Care Administration Program holds orientation for new students in the fall and spring semesters. It is a requirement that all new students attend one of these sessions. Information will be provided after your acceptance to the program.Application Deadlines
The College of Business admits students on a continual basis. Please contact the College for more information.
International applicants are encouraged to apply far in advance.
Program Contact
Dr. Margaret Young, Associate Dean for Academic Affairs and Director of Graduate Programs
mba@twu.edu
Advanced Standing
Advanced standing may be granted to applicants who hold a prior master's or doctoral degree from an accredited U.S. university. This advanced standing means that an applicant may request and be eligible for waiver of certain foundation or core courses, in addition to the GRE/GMAT waiver as described above. It is the responsibility of the applicant to make the request for specific course waiver or transfer credit. In addition, the applicant must submit evidence of equivalent prior course work. Waivers are not automatic and are made on a case-by-case basis by examination of the content of each course requested for waiver/transfer credit. Each course accepted for transfer credit of a required core course must have been completed within the 6 years of the date that the MHA degree is to be awarded. Otherwise, these courses must be repeated.
Students who have completed the MBA or MHSM degree at Texas Woman's University may be eligible for award of up to 12 semester credit hours of transfer credit toward the MHA degree, subject to Graduate School policies.
Contact
hca@twu.edu
940-898-2458
Learn more at one of our Graduate Information Sessions
Page last updated 11:36 AM, April 20, 2020