Master's of Healthcare Administration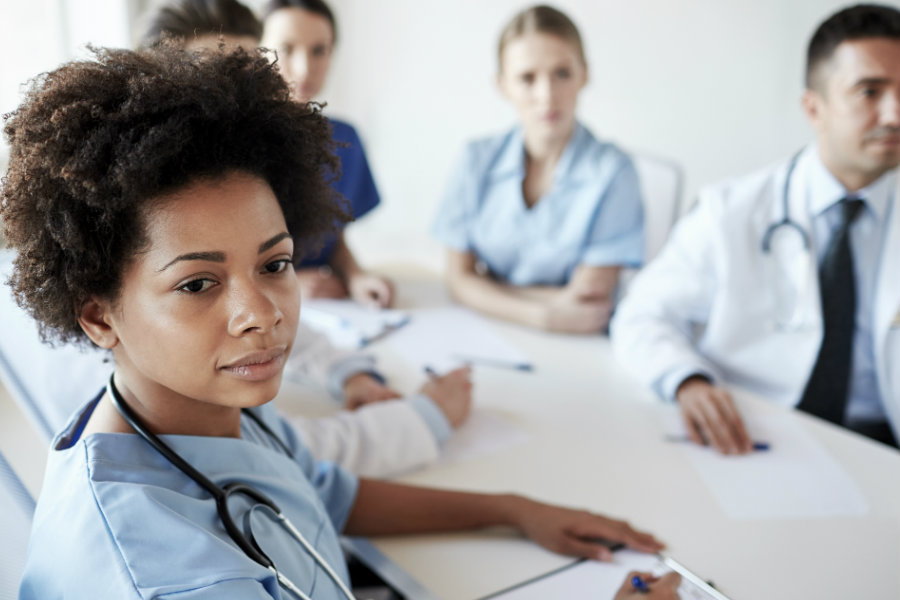 In as little as 24 months, you can have your Master's in Healthcare Administration and be ready for the next step in your career.
Get a blend of real-world experience and theoretical knowledge needed in today's healthcare administration roles with a master's degree from Texas Woman's. Healthcare administration is a rewarding and challenging career in a dynamic industry. We also offer an MHA with Business Analytics emphasis program, if you are interested in the data analysis side of healthcare management.
Our hybrid and online-format classes allow you to attend grad school in Houston and are televised to the Collin Higher Education Center in McKinney, TX - whichever is most convenient for you.
Why Healthcare Administration at TWU?
Three degrees and a certificate
The COB offers two MHA program tracks, a business analytics empasis option and a graduate certificate:
Regular MHA

Executive MHA
Study abroad elective opportunities are also available between Spring and Summer semesters and internships can be used for elective credit hours.
Accredited and highly ranked
A private school education at a public school price
Part of the Texas Woman's experience is keeping costs low and education quality high. As a result, TWU is the most affordable public university in the DFW Metroplex. For more information on costs, visit our Cost of Attendance site.
Our small class sizes also allow you to interact closely with your classmates and professors.
TWU does more to build women leaders
Only 5.4 percent of Fortune 500 CEOs are women, and only 25 percent of senior managers and executives within those companies are women. TWU is working to help change that.
More than 70 percent of our faculty and staff across the university are women. While COB faculty prepare you to tackle the male-dominated world of business, our outreach staff work closely with employers to bring networking and employment opportunities to campus.
For our budding entrepreneurs, TWU's Center for Women in Business is the state's only university center dedicated to women's entrepreneurship and business ownership. The Center provides tools for you to succeed including access to training/coaching, funding, mentoring and networking opportunities.
TWU believes in opening doors for its students
The Career Connections Center on each campus provides advising services and tailored career planning for our students and alumni, from career advising and networking to negotiating a salary after graduation. The Career Center has also implemented Handshake, a unique resume reviewing and job opening database that works to fast-track your job search.
The COB takes it one step further with a team of Outreach and External Relations staff that work with the Career Connections Center to keep our business students in-the-know on employment opportunities and networking events.
Careers & Salaries*
With this degree, you have multiple career opportunities including:
*Median salaries, according to the U.S. Bureau of Labor Statistics and Payscale.com
MHA Program Requirements
45 semester credit hours in required courses including six elective hours
A professional portfolio completed in your final semester and presented to faculty.
A full list of courses and requirements are available in the course catalog.
Executive MHA Requirements
If you have three or more years of management experience, you may qualify for the Executive MHA track, which waives the GRE/GMAT and foundation courses requirements seen in the regular track.
You must be able to demonstrate your contemporary knowledge of the healthcare field and experience with management principles in leadership positions.
Admission Requirements
GMAT/GRE (Not required in executive track)

Undergraduate degree from an accredited university

Undergraduate GPA of 3.0 or better*

Apply to the TWU Graduate School
Email letter of interest, resume and three letters of reference from professional contacts (one letter must be from your current employer) to hcahouston@twu.edu

Prerequisite coursework may be required based on previous academic and/or professional experience

A brief interview may be required
*If you cannot meet this GPA requirement, you must submit suitable GRE/GMAT scores
TWU's general requirements for graduate admission.
For More Information
hcahouston@twu.edu
713-794-2061
Learn more at one of our graduate information sessions.