MHA - Business Analytics Emphasis
In as little as 24 months, you can have your MHA with Business Analytics Emphasis and be ready for the next step in your career.
Program Features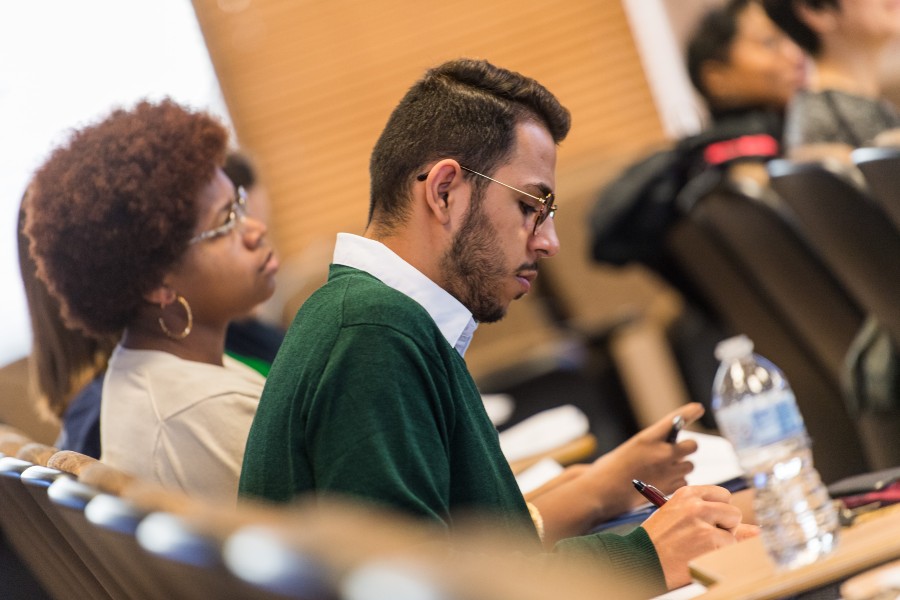 *Individual requirements may vary.
Why MHA with business analytics at TWU?
A private school education at a public school price
Part of the Texas Woman's experience is keeping costs low and education quality high. As a result, TWU is the most affordable public university in the DFW Metroplex and is ranked 6th (tied) among U.S. universities for diversity, according to U.S. News & World Report. For more information on costs, visit our Cost of Attendance site.
Our small class sizes also allow you to interact closely with your classmates and professors.
TWU does more to build women leaders
Only 5.4 percent of Fortune 500 CEOs are women, and only 25 percent of senior managers and executives within those companies are women. TWU is working to help change that.
More than 70 percent of our faculty and staff across the university are women. While COB faculty prepare you to tackle the male-dominated world of business, our outreach staff work closely with employers to bring networking and employment opportunities to campus.
For our budding entrepreneurs, TWU's Center for Women in Business is the state's only university center dedicated to women's entrepreneurship and business ownership. The Center provides tools for you to succeed including access to training/coaching, funding, mentoring and networking opportunities.
TWU believes in opening doors for its students
The Career Connections Center on each campus provides advising services and tailored career planning for our students and alumni, from career advising and networking to negotiating a salary after graduation. The Career Center has also implemented Handshake, a unique resume reviewing and job opening database that works to fast-track your job search.
The COB takes it one step further with a team of Outreach and External Relations staff that work with the Career Connections Center to keep our business students in-the-know on employment opportunities and networking events.
Careers & Salaries*
With this degree, you have multiple career opportunities including:
*Median salaries, according to the U.S. Bureau of Labor Statistics and Payscale.com
Program Requirements
45 semester credit hours in required courses including six elective hours (the six

required elective hours may be used for the emphasis courses)

A professional portfolio completed in your final semester and presented to faculty
12 credit hours for the Business Analytics emphasis. Six of the required electives credits can be substituted for 6 of the business analytics required credit hours.
All courses may be taken in any order with the exception of a few courses with prerequisites.
A full list of courses and requirements are available in the course catalog.
Admissions Requirements
Admission to the TWU Graduate School
When you apply to the TWU Graduate School, we will evaluate your academic achievement and preparation, as well as your standardized test scores if required. All students must meet the University requirements as outlined in the Admissions to the TWU Graduate School. In addition, most graduate programs have additional admission requirements that must be completed. These requirements can be found on each graduate program website. After acceptance, you will need to begin your program within one year, unless a deferral has been approved by the program.
Check out the links below for specific admissions information:
*Admission to the Health Care Administration Program
Program Contact
Dr. Margaret Young, Associate Dean for
Academic Affairs and Director of Graduate Programs
mba@twu.edu
Application Deadlines
Fall – June 30
Spring – October 31
Summer – March 31
International applicants are encouraged to apply far in advance.
Admission Requirements
Undergraduate degree from a regionally accredited institution
Minimum 2.5 GPA
GRE/GMAT if less than 3.2 GPA (Provisional admission possible without GRE if less than 3.2 GPA, with full admission granted based on B or higher for each course in first 12 hours. Failure to meet the conditions of provisional admission will result in removal from the degree program without possibility for readmission.)
Prerequisite coursework may be required based on previous academic and/or professional experience
Application Process
Apply for admission to the TWU Graduate School.
Take the GRE General Test or GMAT and submit your scores to TWU (optional depending on GPA).
Submit TOEFL Scores (for international students and permanent residents) if required.
Collect and submit the following documents as separate pdf files in ONE email to hcahouston@twu.edu with the subject line (YOUR LAST NAME)-(YOUR FIRST NAME)-HCA. Please attach all items as PDFs.

letter of interest
resume

One professional reference should submit a letter of recommendation as a PDF on institutional or organization letterhead to hcahouston@twu.edu. Recommender should include student name and "HCA" in the subject line.
A brief interview may be required.
Mandatory Orientation - The Health Care Administration Program holds orientation for new students in the fall and spring semesters. It is a requirement that all new students must attend one of these sessions. Information is given at these sessions that will enhance the student's learning experience.
Advanced Standing
Advanced standing may be granted to applicants who hold a prior master's or doctoral degree from an accredited U.S. university. This advanced standing means that an applicant may request and be eligible for waiver of certain foundation or core courses, in addition to the GRE/GMAT waiver as described above. It is the responsibility of the applicant to make the request for specific course waiver or transfer credit. In addition, the applicant must submit evidence of equivalent prior course work. Waivers are not automatic and are made on a case-by-case basis by examination of the content of each course requested for waiver/transfer credit. Each course accepted for transfer credit of a required core course must have been completed within the 6 years of the date that the M.H.A. degree is to be awarded. Otherwise, these courses must be repeated.
Students who have completed the M.B.A. or M.H.S.M. degree at Texas Woman's University may be eligible for award of up to 12 semester credit hours of transfer credit toward the M.H.A. degree, subject to Graduate School policies.
For More Information
hca@twu.edu
940-898-2458
Learn more at one of our Graduate Information Sessions
Page last updated 2:45 PM, January 6, 2020