MBA - Human Resource Management Emphasis
In as little as 12 months and for just $17,000, you can have your MBA and be ready for the next step in your career. No GMAT or GRE required.
Program Features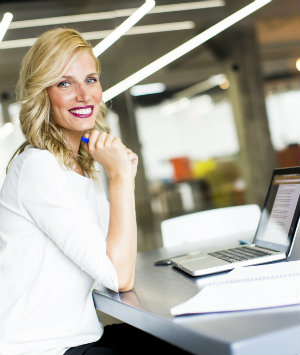 *Individual requirements may vary.
Why human resources at TWU?
HR networking opportunities
Our students build their resumes and their networks with opportunities provided through the local HR professional chapter of North Texas SHRM, which offers scholarships, conferences and mentoring opportunities throughout the North Texas area.
University and program rankings
A private school education at a public school price
Part of the Texas Woman's experience is keeping costs low and education quality high. As a result, TWU is the most affordable public university in the DFW Metroplex and is ranked 6th (tied) among U.S. universities for diversity, according to U.S. News & World Report. For more information on costs, visit our Cost of Attendance site.
Our small class sizes also allow you to interact closely with your classmates and professors.
TWU does more to build women leaders
Only 5.4 percent of Fortune 500 CEOs are women, and only 25 percent of senior managers and executives within those companies are women. TWU is working to help change that.
More than 70 percent of our faculty and staff across the university are women. While COB faculty prepare you to tackle the male-dominated world of business, our outreach staff work closely with employers to bring networking and employment opportunities to campus.
For our budding entrepreneurs, TWU's Center for Women in Business is the state's only university center dedicated to women's entrepreneurship and business ownership. The Center provides tools for you to succeed including access to training/coaching, funding, mentoring and networking opportunities.
TWU believes in opening doors for its students
The Career Connections Center on each campus provides advising services and tailored career planning for our students and alumni, from career advising and networking to negotiating a salary after graduation. The Career Center has also implemented Handshake, a unique resume reviewing and job opening database that works to fast-track your job search.
The COB takes it one step further with a team of Outreach and External Relations staff that work with the Career Connections Center to keep our business students in-the-know on employment opportunities and networking events.
Careers & Salaries*
With this degree, you will have career opportunities including:
*Median salaries, according to the U.S. Bureau of Labor Statistics
Admissions Requirements
Admission to the TWU Graduate School
When you apply to the TWU Graduate School, we will evaluate your academic achievement and preparation, as well as your standardized test scores if required. All students must meet the University requirements as outlined in the Admissions to the TWU Graduate School. In addition, most graduate programs have additional admission requirements that must be completed. These requirements can be found on each graduate program website. After acceptance, you will need to begin your program within one year, unless a deferral has been approved by the program.
Check out the links below for specific admissions information:
*Admission to the Master of Business Administration
Program Contact
Margaret Young
Associate Dean for Academic Affairs and Director of Graduate Programs
mba@twu.edu
Application Deadlines
The College of Business admits students on a continual basis. Please contact the College for more information.
Admission Requirements
GPA of at least 3.0 for the last 60 hours of undergraduate coursework. For applicants who have completed post-baccalaureate or graduate coursework, a GPA of at least 3.0 for such coursework is also required.
Applicants with a GPA of at least 2.50 in the last 60 hours of undergraduate coursework may be considered for provisional admission. Students admitted under this provisional admission must earn a GPA of at least 3.0 on first nine graduate hours at TWU with no grade below "B". Failure to maintain this GPA may result in removal from the program.
Individuals applying to dual-degree programs must apply and be accepted to each program (both M.B.A. and M.H.A.)
Prerequisite coursework will be required of some students based on their desired course of study and previous academic and/or professional record.
Students are expected to be proficient in the current tools of Business: Microsoft Office suite of products (Word, PowerPoint, Excel, and Access). Admitted applicants that need to enhance their proficiency in any of these areas will have free tutorials available via Lynda.com.
How to Apply
Apply for admission to the

TWU Graduate School.
Submit a

résumé

to mba@twu.edu.
For More Information
mba@twu.edu
940-898-2458
Learn more at one of our graduate information sessions.
Page last updated 2:30 PM, January 6, 2020