Master of Health Systems Management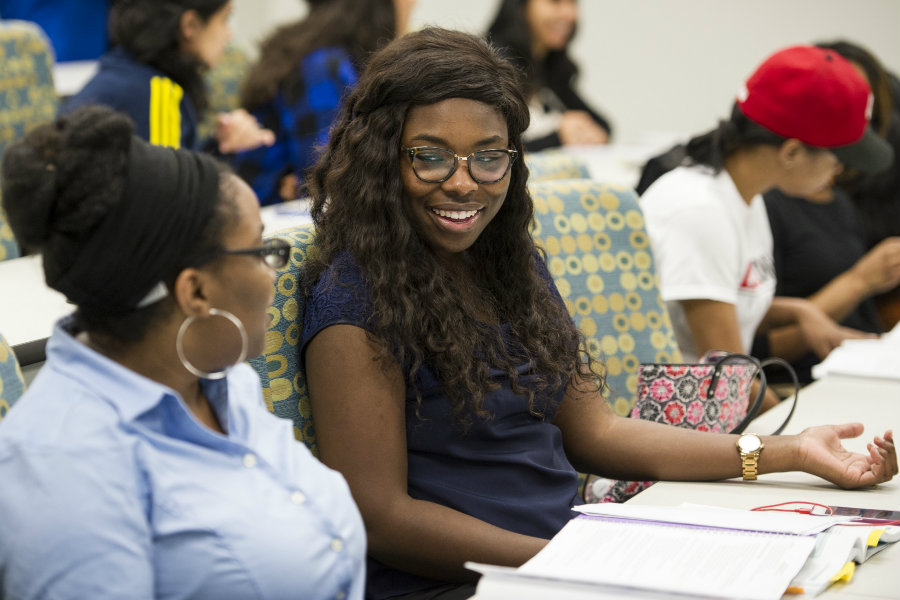 In as little as 24 months, you can have your Master of Health Systems Management degree and be ready for the next step in your career. No GMAT or GRE required.
Prepare for leadership in healthcare management with a master's from Texas Woman's University. In our Master of Health Systems Management (MHSM) program you will learn about:
The healthcare environment, including its legal aspects, system organizations and policy
Management science covering operational analysis, human resources management and financial and quantitative analysis
Strategic planning and leadership behaviors with emphasis on ethical, social and community responsibilities
Our hybrid and online-format classes allow you to attend grad school in Dallas, with health system management courses in the evenings and business courses on Saturdays. Business courses are in an accelerated 5-week format to better fit your busy schedule.
Interested in earning a Dual MBA/MHSM degree? TWU offers this type of program as well, giving you the flexibility and convenience of learning even more about the business of healthcare.
Why Health Systems Management at TWU?
Accredited and highly ranked
TWU's College of Business is accredited by the Accreditation Council for Business Schools and Programs (ACBSP), a leading association for business education that is uniquely focused on teaching excellence and student outcomes.
Texas Woman's also ranks 6th (tied) among U.S. universities for diversity, according to U.S. News & World Report.
A private school education at a public school price
Part of the Texas Woman's experience is keeping costs low and education quality high. As a result, TWU is the most affordable public university in the DFW Metroplex. For more information on costs, visit our Cost of Attendance site.
Our small class sizes also allow you to interact closely with your classmates and professors. Plus, this program is offered at Texas Woman's T. Boone Pickens Institute of Health Sciences-Dallas Center in the heart of the Southwestern Medical District with leaders in innovative research and healthcare.
TWU does more to build women leaders
Only 5.4 percent of Fortune 500 CEOs are women, and only 25 percent of senior managers and executives within those companies are women. TWU is working to help change that.
More than 70 percent of our faculty and staff across the university are women. While COB faculty prepare you to tackle the male-dominated world of business, our outreach staff work closely with employers to bring networking and employment opportunities to campus.
For our budding entrepreneurs, TWU's Center for Women in Business is the state's only university center dedicated to women's entrepreneurship and business ownership. The Center provides tools for you to succeed including access to training/coaching, funding, mentoring and networking opportunities.
TWU believes in opening doors for its students
The Career Connections Center on each campus provides advising services and tailored career planning for our students and alumni, from career advising and networking to negotiating a salary after graduation. The Career Center has also implemented Handshake, a unique resume reviewing and job opening database that works to fast-track your job search.
The COB takes it one step further with a team of Outreach and External Relations staff that work with the Career Connections Center to keep our business students in-the-know on employment opportunities and networking events.
Careers & Salaries*
With this degree, you have multiple career opportunities including:
*Median salaries, according to the U.S. Bureau of Labor Statistics and Payscale.com
Program Requirements
Students are required to complete 45 semester credit hours to complete the program. Previous academic and/or professional experience may require you to complete prerequisite coursework. Typically, full-time students finish in 24 months.
A full list of courses and requirements are available in the course catalog.
Admission Requirements
No GMAT or GRE requirements

Undergraduate degree from an accredited university

Undergraduate GPA of 3.0 or better

for the last 60 hours of coursework

Apply to the TWU Graduate School
Email resume

to

mba@twu.edu

Prerequisite coursework may be required based on previous academic and/or professional experience
TWU's general requirements for graduate admission.
Application Deadlines
Fall: August 1
Spring: December 1
Summer: May 1
International applicants should immediately review the university's International Admission Requirements for application procedures and the International Education website for information concerning visa requirements.
For More Information
mba@twu.edu
940-898-2458
Learn more at one of our graduate information sessions.
Page last updated 2:57 PM, October 15, 2018