Margaret A. Young, PhD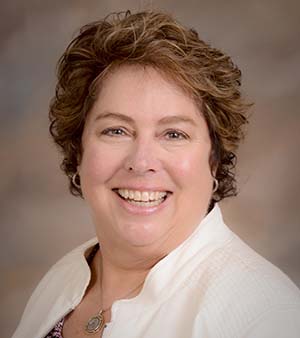 Associate Dean for Academic Affairs
Professor
College of Business
Program Area: Marketing
Professional Preparation
PhD, New Mexico State University, Business Administration with a Marketing Emphasis
MA, New Mexico State University, Economics
BBA, University of Texas at El Paso, Economics
Profile
As Associate Dean and professor, Margaret Young, PhD, oversees professional degree programs in business and healthcare administration. She expanded internship and career opportunities for TWU's diverse students by focusing heavily on industry outreach and applied learning. One of her top strategic goals for the College of Business is to expand current analytical, technical, leadership and diversity educational opportunities for business and healthcare students.
Prior to coming to TWU, Dr. Young served as dean of the School of Business, Media and Technology at New Mexico Highlands University in Las Vegas, NM, where she developed and implemented degrees in software development and related business technology areas. She held various corporate sales and sales management jobs with AT&T, Southwestern Bell and others prior to pursuing her career in higher education. Her research focuses on sustainability, consumer behavior and environmental issues related to marketing.
Representative Publications
Pan, David, Fu, Frank H., Young, Margaret A., and Pan, Alan J. Distance of Similarity: Assessing Mimic Product from Authentic Brand on Enculturation Conformance. Proceedings of the China International Marketing Conference, 2016.
Weber, James E., Weber, Paula S., and Young, Margaret A. Does Greater Exposure to Service Learning Enhance Student Outcomes? Quarterly Review of Business Disciplines 2(2):133-144. August 2015.
Young, Margaret A., Hill, Jean L., Geagon, Margot S., Nelson, Christopher, and Weatherburn, Stephen (2013). "Ultimate Outcomes: Implementing a University-Wide Outcomes Assessment System." Higher Learning Commission. Proceedings of the 2013 Annual Conference. Chicago, IL. April 2013.
West, David, Young, Margaret and Quillien, Jane (2012). "Dynabook Redux." Web Technologies and Internet Applications. Special Track: Social Computing and Behavioral Modeling. Refereed Proceedings of the 2nd Annual International Conference, Bali Indonesia.
Page last updated 2:39 PM, February 18, 2020