Mary L.A. Stanton
An inspiration to others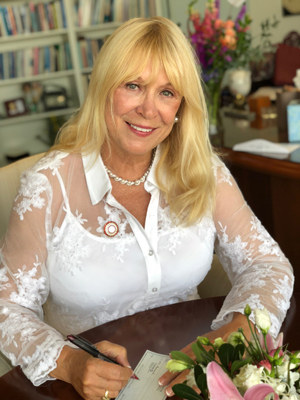 Mary L.A. Stanton has had many titles in her life, including mother, wife, world traveler, investor and business owner. But one title she's especially proud of is Texas Woman's University alumna.
The road to success wasn't always an easy one for Mary, who recently made the single largest donation to the university.
"I was the definition of a non-traditional student at TWU-a single mother raising two young sons, working as a defensive driving instructor and bookkeeper," she recalled. "I would drive from Corinth to Denton in the morning, attend classes, and be home in the afternoon when my sons got home from school. We would do our homework together."
Mary, who was an A student and attended TWU on scholarship, didn't spend much time on campus outside of class as she didn't have the time. But she loved the way the Denton campus felt then and still does today, which is why she was moved to donate more than $10 million to her alma mater. In her honor, the east building of TWU's new campus residential village will bear her name. While it will be formally called Mary L.A. Stanton Hall, she hopes students will refer to the building as "Mary's Hall." The building is scheduled to open in fall 2019.
"I am excited that this new residential village will provide a robust campus experience for TWU students, which I didn't have because I commuted," Mary said. "I want the students to see a woman's name on the building and be inspired to do their best in school and life. I also hope it serves to inspire other graduates from TWU to think, 'If she can do this [support TWU], then so can I.'"
Prepared to lead
While attending college, Mary started working for H.T. Ardinger & Son, a wholesale home and holiday decor import company run by Horace Ardinger, Jr. She was hired for her accounting skills, but soon learned other areas of the business.
After earning her business degree from TWU in 1989, Mary continued taking master's level accounting and business classes, but had to stop because of her work schedule.
"I completed all the coursework for my master's except for writing my thesis," she said. "I just got too busy with work, traveling overseas to buy merchandise for the import company. I was very lucky. Horace taught me everything to do with the import business, and I got to do everything."
That on-the-job training, and what she learned at TWU, set her on a course for success beyond her imagination.
A few years later, she and Horace married, and the two were true business partners. Together, they managed the privately owned company that employed more than 100 people. Mary was involved in every aspect of the business: merchandising, negotiating, pricing, product development, accounting, marketing and managing overseas suppliers, primarily in China.
"Working hard and long hours have an immediate benefit, but the blessings continue for a lifetime," she said.
She witnessed how international business with China fluctuated over the years and learned to adapt the business accordingly. She also played a creative role, working with the Asian manufacturing companies to modify products to create innovative new offerings that would appeal to American consumers-including pre-lit Christmas trees and the increasingly popular holiday "pencil trees" that fit neatly into apartments and small spaces.
"One December, I got frustrated putting lights on each branch of my Christmas tree," she remembered. "During my next trip to China, I talked to the owner of the shop who made many of our trees and asked if we could come up with a solution. That's how our pre-lit Christmas trees were developed."
In 2011, after being in business for 63 years, the wholesale company ended its warehouse and shipping operations.
"We enjoyed working together for over 20 years," said Mary, who noted she and Horace believed in keeping employees on payroll until they found other jobs or completed school.
"We always have considered our employees to be family and we did everything we could to treat them like they were."
Horace passed away in 2012. Since then, Mary has continued to manage 10 other businesses in fields ranging from oil and gas to medical research, waste recovery and financial investing.
While she keeps busy with her work commitments and philanthropic interests, such as the Make-a-Wish Foundation, she still finds time to have fun. Mary and her husband, Bob Stanton, whom she married in 2015, take frequent road trips and just visited their 50th state together earlier this year.
Mary has made a success of her life, but has never forgotten that her education provided the background to get her there. A couple of years ago, Bob and Mary provided a gift to establish an audio recording studio at his alma mater, Bowling Green State University. They also support Happy Hill Farm, a boarding school that offers private education to underprivileged children with high potential.
They also have a heart for those affected by natural disasters, giving to the Sonic Automotive SAFE Fund after Hurricane Harvey hit Houston and the JJ Barea Foundation after Hurricane Maria devastated Puerto Rico. Mary and Bob also donate substantially to animal welfare groups, church groups and church-affiliated educational institutions, including the Dallas Theological Seminary.
Now, Mary is proud to be giving back to the university that helped launch her career.
"Without my degree, I don't think I would be where I am today," she said. "I'm honored to say I'm a TWU graduate and hope that TWU's students will see me as a role model for what they, too, can become."
TWU Chancellor Carine M. Feyten and Alumni Donor Mary L.A. Stanton stand in front of the construction site for the new residence village on the Denton campus. The east portal building in this village will bear Mary's name. Photo by Michael Modecki.
Media Contact
Deanna W. Titzler
Director of Public Relations
940-898-3252
dtitzler@twu.edu
Page last updated 12:12 PM, February 4, 2019